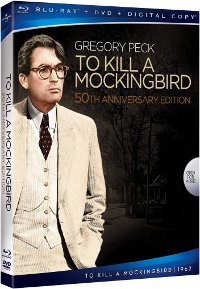 To Kill a Mockingbird: 50th Anniversary (Universal) presents the beloved Oscar-winning drama, based on Harper Lee's novel and starring Gregory Peck, in a newly-remastered edition for its Blu-ray debut. The quiet, understated drama of this classic seems to actually improve with the years.
Peck, who won an Oscar for his portrayal, delivers what may be his career best performance as the single father who risks alienation within his community to defend a black man (Brock Peters) accused of raping a white woman in a small Southern town. Horton Foote adapts Lee's novel with sensitivity and grace, capturing nuances and subtleties without letting us forget that we're seeing this unfold from a child's perspective. The film also marked Robert Duvall's screen debut (who won his Oscar twenty years later in another film from a Horton Foote script: "Tender Mercies"). An unforgettable film that captures the sensations of summer, the imagination of childhood, the scary reality of the adult world just on the other side of adolescence, and one man's struggle for justice in the face of hateful contempt.
The film has been remastered from original 35mm film elements as part of Universal's "100th Anniversary Collector's Series" for a new DVD edition and the film's Blu-ray debut. Both versions feature the supplements from the previous two-disc DVD release. commentary by director Robert Mulligan and producer Alan Pakula, the feature-length 1999 documentary A Conversation with Gregory Peck (1999) by Oscar winning documentarian Barbara Kopple, the feature-length documentary Fearful Symmetry on the making of the film (featuring cast and crew interviews and a visit to author Harper Lee's home town), Gregory Peck acceptance speech for his Academy Award for Best Actor and his speech accepting the AFI Lifetime Achievement Award, his daughter Cecilia Peck's speech at the Academy Award tribute to Gregory Peck, an interview with co-star Mary Badham ("Scout Remembers), and the trailer. New to the release is the featurette "100 Years of Universal: Restoring the Classics," which looks at the film restoration process.
The Blu-ray release comes in an illustrated digibook case and features a picture-in-picture viewing mode with interviews, clips, stills and narration by Gregory Peck's Family and the usual BD-Live supplements, plus a bonus DVD and digital copy.