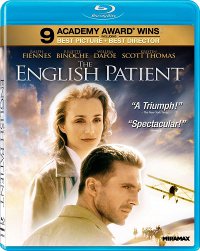 You can tell it's Oscar season when the studios pull past winners out of the vault for new home video editions. Leading the week's debuts of Oscar winners on Blu-ray are The English Patient (Lionsgate), with nine Academy Awards (including Best Picture and Best Director), and Shakespeare in Love (Lionsgate), with seven wins (including Best Picture). These two films are testament to the ability of Harvey Weinstein to promote his classy fare into Oscar gold over the bigger-budgeted studio features and their better funded campaigns. Which is not to say it's all about the race, mind you, just that industry politics have as much to do with votes as film quality.
The English Patient (1996) is a lushly romantic drama adapted from Michael Ondaatje's novel by director Anthony Minghella. Set in the African desert for World War II and starring the intense Ralph Fienned, the elegant Kristin Scott Thomas and the angelic Juliette Binoche, it could be "Casablanca" for the nineties, delivering both romantic tragedy (the end of the old world of privilege) and rebirth (the beginning of a new egalitarian world) in an old fashioned/new-age romance with the most beautiful people and gorgeous costumes you ever saw survive a trek through the desert. Features two commentary tracks, the hour-long documentary "Black and White to Color: The Making of The English Patient," interviews, deleted scenes and numerous production featurettes.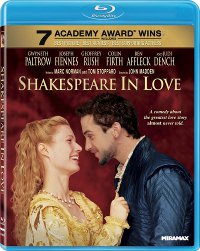 Shakespeare in Love (Lionsgate), John Madden's love letter to the romance of art and the art of romance, is a fantasy of the Bard's life as seen through the conventions of his own cross-dressing farces and refracted through a modern sensibility. Gwyneth Paltrow turns the role of her career into pure laughter and love (who would doubt this willowy goddess is Shakespeare's muse?), Joseph Fiennes plays the young Shakespeare as a writer inspired by the rush of a secret affair, and Geoffrey Rush slurs the romantic mantra through his artistically rotted teeth: "Everything always works out in the end." "How?" "I don't know, it's a mystery." Features two commentary tracks (one by Madden, one by the cast and crew), deleted scenes and two featurettes.