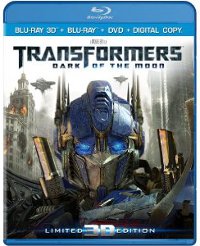 Michael Bay's third rock 'em sock 'em giant robot spectacular was shot and designed for 3D, which forced the director to slow his chaotic editing down and create a coherent action canvas.
Transformers: Dark of the Moon – Blu-ray 3D Combo (Universal) marks the film's home video debut in 3D, albeit on for consumers who own Blu-ray compatible monitors and Blu-ray players. For the rest of us — or at least the rest of us with Blu-ray players — this four-disc set includes a standard Blu-ray edition, which benefits from the restraint in as much as you can actually see the transformations unfold and the action play out. It's just the story that makes no sense. But then again, it's a movie about giant alien robots who go to war in the city of Chicago and destroy half the city along the way, so who needs a story? Videodrone reviewed the original Blu-ray and DVD release here.
Apart from 3D, the draw of this new set is the collection of extras. The original release featured no supplements on either the Blu-ray or the DVD edition. This set features Blu-ray 3D and standard editions, a bonus DVD, a digital download, and an Ultraviolet digital copy for download and instant streaming, and all the supplements one could want from a Michael Bay extravaganza in high definition.
Continue reading on Videodrone, where there's an exclusive clip from the supplements