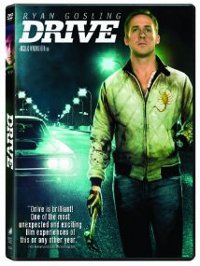 Drive (Sony), the sleek pulp crime cool-meets-art-house​ style thriller starring Ryan Gosling as a taciturn getaway driver, was an Oscar favorite when it debuted in the fall. Directed by Nicolas Winding Refn (a veteran of gritty, brutal Danish underworld dramas) with a silky smoothness and a stylized cool that recalls "Le Samourai" and Walter Hill's "The Driver," and an eighties vibe and neon palette that channels such films as "To Live and Die in L.A." and "Thief," it's a film that celebrates — one might say revels in — the pulp mythology of existential anti-heroes and criminal chivalry and street opera tragedy of American movies. But most of all, it is a movie that enjoys being a movie.
Gosling is the unnamed anti-hero (he's just The Driver, a genre convention the film wears like a badge), introduced to us by way of his unfazed professionalism as the wheelman-for-hire successfully transporting his latest clients from a sloppy heist.  He's a pro defined by talent, confidence and complete self-possession, living a simple life by rules he doesn't break for anyone. Until, of course, he falls for a pretty young neighbor (Carey Mulligan) raising a son while her husband is in prison.
Refn, working from a stripped-down script by Hossein Amini, melds American and European sensibilities, offering a grim fairy tale for the small-time operators of the Los Angeles underworld and the innocents in the orbit, complete with Gosling as the enigmatic street prince whose chivalry is rekindled when he falls for a princess (Mulligan) and battles the underworld dragons (Albert Brooks and Ron Perlman).
Why it was left in the dust is something of a mystery, even with the critical backlash against its neon noir stylings and romanticized gangster movie tropes.