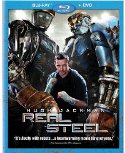 New Releases:
"Real Steel" (Disney) leads the hitlist of this week's New Release Rack: the rousing underdog robot boxer spectacle by way of father-son bonding drama, with Hugh Jackman as the absent dad with a shot at redemption. Director Shawn Levy leaves his bailiwick of comedy for the drama with rock 'em sock 'em robot action and emerges with a surprisingly engaging film. Blu-ray, DVD, Digital Download, On Demand, and day-and-date availability at Redbox. Videodrone's review is here.
"50/50" (Summit) is what Joseph Gordon-Levitt puts his chances of survival when he's diagnosed with cancer in the comedy inspired by the real-life ordeal of producer/screenwrite​r Will Reiser. MSN film critic Kat Murphy appreciates the "genuine sweetness and pure joy generated by this surprisingly feel-good flick." Seth Rogen, Anna Kendrick and Angelica Huston play his support circle. DVD and Blu-ray, day-and-date availability at Redbox. Videodrone's review is here.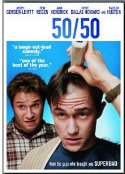 Death-obsessed boy meets dying girl in "Restless" (Sony), Gus Van Sant's romantic drama of quirky young adults with Mia Wasikowska and Henry Hopper (Dennis Hopper's  son). DVD and Blu-ray. Rachel Weisz is "The Whistleblower" (Fox), a U.N peacekeeper who uncovers a conspiracy in Bosnia, in this international thriller. "Paranormal Activity 3" (Paramount) continues the zero-budget horror franchise of haunted houses and home video. All on DVD and Blu-ray.
"Happy Happy" (Magnolia), a black comedy of an eternal optimist in a failing marriage, won the grand jury prize for world cinema at Sundance last year. The Norwegian film arrives on DVD and Blu-ray. Other foreign release highlights this week include Jerzy Skolimowski's "Essential Killing" (Tribeca/New Video) with Vincent Gallo as a Taliban fighter, and the Hong Kong crime thriller "Punished" (Vivendi), from producer Johnnie To. More reviews here.
"Hell and Back Again" (Docurama), another Sundance 2011 winner and an Academy Award nominee for Best Documentary, contrasts one American Marine's ordeal in Afghanistan with his troubled transition to civilian life after a life-threatening injury in battle. On Blu-ray, DVD and VOD. Other non-fiction releases this week include "Revenge of the Electric Car" (Docurama) and "Shut Up Little Man!" (Tribeca).
Browse the complete New Release Rack here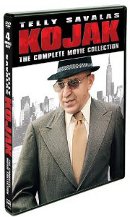 TV on DVD:
"Kojak: The Complete Movie Collection" (Shout! Factory) features eight made-for-TV movies starring Telly Savalas as the uncompromising Lt. Theo Kojak, the Greek-American New York homicide detective with a sharp mind for piecing cases together. The character was created by Abby Mann in the Emmy-winning TV movie "The Marcus-Nielson Murders," which makes its DVD debut in this four-disc set, which is filled out by seven telefilms made after the series came to an end, including five that helped launch the career of Andre Braugher. "Who loves ya, baby?" DVD only. Videodrone's review is here.
"WWII in 3D" (History) follows the History Channel's "World War II in Color" with a short (46 minutes) special showcasing 3D photos (including reconnaissance shots) and 3D motion picture footage shot by the Nazis in 1943. Blu-ray only
Also new this week: "Mad: Season One, Part Two" (Warner) offers 13 more very short episodes of animated spoofing and "Mannix: The Sixth Season" (Paramount) presents 24 episodes of the Mike Connors private eye series.
Flip through the TV on DVD Channel Guide here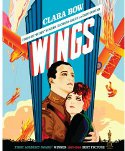 Cool, Classic and Cult:
"Wings" (Paramount), the film that won the very first Academy Award for Best Picture, arrives on DVD and Blu-ray in a newly restored and remastered edition. Clara Bow (the "It" Girl herself) takes top billing but the amazing aerial spectacle choreographed by directed William Wellman is the real star of this World War I fighter-pilot drama. Videodrone's review of  the DVD and Blu-ray debut is here, along with an exclusive clip from the disc.
"Godzilla" (Criterion), the mother of all Japanese monster movies, is newly remastered on DVD and Blu-ray in a disc featuring both the original Japanese and revised American versions of the film, plus new supplements. Videodrone's review is here.
French director Jean Rollin is not a well-known name even to some fans of horror cinema, but his brand of erotic horror with a surreal sensibility has made him a major cult figure among those with a taste for le cinema fantastique. Five of his most distinctive films are remastered for DVD and Blu-ray this week, including his signature film "The Shiver of the Vampires" (Redemption/Kino) and his haunting "Lips of Blood" (Redemption/Kino). Videodrone reviews them here.
Also debuting this week: Francesco Rosi's 1965 drama "The Moment of Truth" (Criterion) form Italy and the complete web series "The Confession" (Flatiron) with Keifer Sutherland.
All of the Cool, Classic and Cult here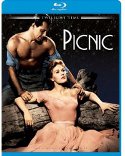 Blu-ray Debuts:
John Huston's 1958 "The Roots of Heaven" (Twilight Time) is a different kind of African wildlife adventure: the heroes are eco-warriors taking on elephant poachers. Trevor Howard leads the guerilla band but Errol Flynn (in one of his final screen performances) gets top billing as the barfly roused to action by Howard's dedication. Videodrone's review is here.
"Picnic" (Twilight Time), a small-town drama starring William Holden and Kim Novak, is better known and more revered. This 1955 adaptation of William Inge's Broadway play tends to the stagey, but it's beautifully shot in CinemaScope and the disc looks superb.
Three Alfred Hitchcock classics – including the Oscar-winning "Rebecca," the psychological thriller "Spellbound," and his glorious romantic thriller "Notorious" – all produced by David Selznik, debut on Blu. Reviewed on Videodrone here.
Also new this week: Billy Wilder's "The Apartment: Collector's Edition" (MGM) and Woody Allen's "Annie Hall" (MGM) and "Manhattan" (MGM).
Peruse all the new Blu-rays here
New on Netflix Instant:
Fresh from the DVD New Release rack come the sweeping historical drama "United Red Army" from Japan, Isabelle Huppert in "Special Treatment" from France and the culinary documentary "Eat This New York."
It's a boom week for fans of classic films. Among the hundreds of films and TV shows just added to the Instant Streaming library are: "Duck Soup" (1933) with the Marx Brothers, "Jane Eyre" (1944) with Orson Welles and Joan Fontaine, Stanley Kubrick's "A Clockwork Orange" (1971) and Robert Altman's "3 Women" (1977), plus the first season of "Portlandia" (2011) and all three seasons of "United States of Tara" (2009-2011).
Browse more Instant offerings here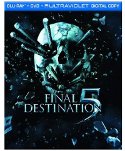 Available from Redbox this week:
Arriving same day as stores and web outlets are "Real Steel" (DVD and Blu-ray), "50/50" (DVD and Blu-ray) and "Paranormal Activity 3" (DVD and Blu-ray). See above for details.
"Final Destination 5" (Warner) is yet another installment in the high-concept franchise that finds yet more new ways to dispatch its victims. This one begins with a bridge collapse and ends with a lot of corpses dispatched in creative fashion. In the words of MSN film critic Kat Murphy, it "isn't really a movie any more than a meat grinder is." DVD and Blu-ray.
Also arriving this week is "Flypaper," a crime comedy starring Patrick Dempsey and Ashley Judd as rival bank robbers who target the same bank, and "In the Name of the King 2: Two Worlds" (Fox), the latest video game movie from Uwe Boll. Both DVD only.