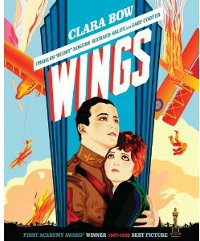 Clara Bow took top billing in the 1927 Wings (Paramount), the film that won the very first Academy Award for Best Picture, but the real star of this World War I drama is the amazing aerial spectacle: the dogfights in the sky over the battlefields.
The rest of the film, co-starring Charles "Buddy" Rogers and Richard Arlen (both virtual unknowns at the time) as buddies and fellow pilots, is sturdy studio filmmaking with romance, bonding under fire and rousing "war is hell" action. There's none of the seriousness or dramatic grace of King Vidor's earlier "The Big Parade," but director William Wellman, who was a World War I fighter pilot himself, invests us in the camaraderie of men in battle and especially the thrilling flight of the warriors. The magnificent dogfights, the sky swarming with planes, the downed ships spiraling down through the clouds with a tail of black smoke and yellow flame (color added like hand-tints of the time) were all staged and shot for real and the budget soared to $2 million, making it one of the most expensive films of its era. Wellman makes sure it's all there on the screen. It's a romanticized look at war, but it's also what Hollywood does best.
Paramount releases the film on DVD and Blu-ray (adding one more silent offering to the Blu-ray format) in a beautifully restored and newly remastered edition that preserves the texture of the photography, and offers a choice of two scores.
Continue reading at Videodrone and see an exclusive clip from the disc
For more releases, see Hot Tips and Top Picks: DVDs, Blu-rays and streaming video for January 24