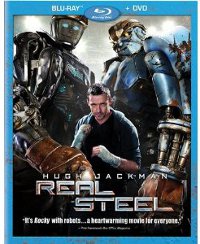 Distill The Champ and Rocky, add a dash of The Rumble in the Jungle, shake well and serve in larger-than-life rock 'em sock 'em robots. That's basically what you get with Real Steel' and somehow all those second-hand pieces come together in a rousing (if awfully inevitable) underdog story.
Ostensibly based on the same short story that spawned the original Twilight Zone episode "Steel," it takes no more than the basic premise (a future where human boxing has been replaced with robots, a down-at-heels former boxer trying to get by with failing equipment) and spins a story of father/son bonding and a real jerk of a would-be dad getting a shot at redemption.
Hugh Jackman really plays up the "jerk" part of his character in the opening scenes, ducking creditors, welching on bad bets and in general letting his arrogance get in the way of his shots at success. That is, until he's force to be a father to the son he gave up long ago (Dakota Goyo), a kid whose justified anger at all his surviving parental figures makes him a force to be reckoned. And when the kid rescues an old model 'bot that has just as much pluck as the humans, Dad slowly takes is place in his son's corner as advisor, inspiration and even robot trainer.
Somehow director Shawn Levy, leaving the familiar waters of high-concept comedy for family drama set against a vaguely futuristic backdrop of robot action from the dregs of fleapits to the main event of a championship bout, makes it all work as a satisfying experience. For all the dazzle of the mechanical dance, Levy commits himself to the human drama and delivers an old-fashioned piece of storytelling.
Continue reading at Videodrone
For more releases, see Hot Tips and Top Picks: DVDs, Blu-rays and streaming video for January 24