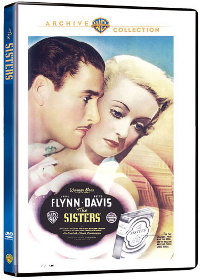 There wasn't another actress like Bette Davis in the golden age of Hollywood, and I doubt there ever will be. In a film culture that prized beauty over talent, she became a leading lady and a dominant movie star by the sheer force of her talent and screen presence and dedication. She drove her career, going to war with the studios to demand better roles and more control over her career, and remained a force to be reckoned with through the 1960s. Only Kate Hepburn and (at least so far) Meryl Streep can boast of careers with comparable virtues of longevity and seriousness (poor Joan Crawford slipped into self-parody after her career-reviving "Baby Jane" while Davis maintained her dignity even through substandard roles).
The Warner Archive recently released a collection of Bette Davis films from the 1930s and they offer a snapshot of the rise of her career, from the snappy, street smart dame of Warner Bros. pre-code movies to the leading lady of serious dramas and lavish historical pictures. While they may not all be among her best films of the era (most of those have already been released to DVD), they show that Davis is never less that committed to her work and is constantly striving to be at her best.
In Housewife (1934), she's second billed but really only a supporting player, the "other woman" who seduces — or at least makes a valiant attempt to — advertising professional George Brent from his devoted wife Ann Dvorak. It's not hard to see the attraction; Davis' big city advertising copywriter is all confidence and sophistication next to Brent's meek company man and she essentially grooms him for better things. He returns the favor by trading up, at least until Dvorak follows suit by considering a suitor of her own. It's a fairly unremarkable piece of pre-code filmmaking, but Davis — not yet a major star but certainly a leading lady working her way up the studio hierarchy — shows the rest of the cast (including the reliable Warner girl Friday Ruth Donnelly) how it's done.
The Sisters (1938) is, by contrast, a standout role for Davis, playing opposite Errol Flynn (for the first time) as the quiet and sensible of three sisters who proves to be a passionate woman under her guarded restraint.