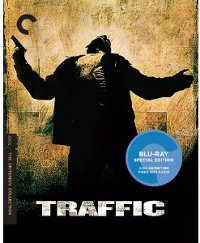 Steven Soderberg tackles the drug trade with startling clarity in Traffic (Criterion), quilting a complex checkerboard screenplay into a unified piece.
Taking the viewer from Tijuana to Washington, with side trips to middle America and border crossings, Soderberg explores the instability and corruption that makes the drug war so futile. Michael Douglas stars as the well meaning drug Czar and Catherine Zeta-Jones is a pregnant socialite turned lioness, but the heart belongs to Benicio Del Toro, a Tijuana cop ambiguous to the final scene, playing the opportunist while hiding his passion and disgust under a mask of indifference. Del Toro earned one of the film's four Oscars; the others went to director Steven Soderberg, editor Stephen Mirrione, and screenwriter Stephen Gaghan (who adapted, condensed, and transplanted the original British mini-series "Traffik"). Soderberg never lets his anger overflow into the film, but his emotional restraint makes this critical portrait of a doomed struggle even more cutting.
The film is also available on Blu-ray from Universal, in an edition with a short featurette and deleted scenes. The "Director Approved" Criterion edition, by contrast, is packed with supplements, including three separate commentary tracks: a sharp and articulate track by director Steven Soderbergh and writer Stephen Gaghan; one by producers Laura Bickford, Edward Zwick, and Marshall Herskovitz and consultants Tim Golden and Craig Chretien, which brings a completely different set of insights and background information to the film; and one with composer Cliff Martinez (with two music cues not included in the film).
There are also deleted scenes with optional commentary by Soderbergh and Gaghan and 30 minutes of additional footage from the scenes of the El Paso Intelligence Center and the Washington D.C. cocktail party, but the disc's most compelling features are demonstrations of the three key production elements. There is a step by step look into the film processing technique used to achieve the sun-blasted look of the Mexican scenes; a demonstration of the editing choices and process of three scenes narrated by editor Stephen Mirrione (watching each scene become subtly sharpened and focused through each successive cut is a real education in the art of editing); and an instructional look at the art and technique of sound editing, hosted by sound editor Larry Blake. While a little on the technical side (Mirrione's talk of "layering" isn't always clear), each of these demonstrations is attacked with the kind of professional insight rarely seen in such DVD productions. Also features a gallery of U.S. Customs trading cards of the K-9 squad (!), TV spots, and trailers.