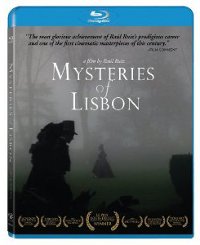 Raul Ruiz's exquisite, elegant, nearly 4 ½-hour Mysteries of Lisbon (Music Box) begins with an orphan boy in a Catholic boarding school searching for his identity. While his schoolmates have many names and titles, their rank becoming their identity, he is simply Joao, a boy with no background. But others have also recreated themselves, through marriage or money or status purchased with fortune and power, and the biggest mystery is the protective priest who watches over Joao. As the boy's ancestry unfolds in a magnificent tapestry of flashbacks that slowly weave a portrait out of dozens of characters and stories, so does the story of the quietly driven Father Dinis (Adriano Luz), which is inextricably tied to the boy's past.
Chilean-born Ruiz is a director whose love of storytelling and narrative play is often more engaging than the films themselves but with Mysteries of Lisbon, an epic based on a classic Portuguese novel (one yet untranslated into English), his engagement with the characters and their defining stories guides his direction, and his graceful camerawork and unerring eye for images both classical (like paintings in a cinematic frame) and fluid (his camera moves with purpose and grace) are in the service of the trajectories of the characters. This is a film of labyrinthine storytelling and cinematic weaves of character and narrative that stretch across countries and time itself, rewinding for elaborate flashbacks that redefine everything we know and understand, and of compassionate insight into human nature and the contradictions that define us.
Ruiz died just as the film made its American debut, having completed shooting one last film before passing. I look forward to his swan song, as well as looking back through the scores of earlier films yet to be released in the U.S. Until then, I can lose myself in this magnificent production, which I chose as the best film of 2011, and the beautifully mastered Blu-ray presentation of Ruiz's elegant images.