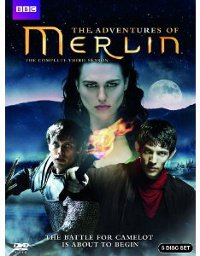 Merlin: The Complete Third Season (BBC) continues the teen reworking of the King Arthur legend as a coming-of-age tale. This one is centered on the parallel odysseys of two characters: peasant sorcerer Merlin (Colin Morgan), learning the potential of his powers and his responsibility, and arrogant young prince Arthur (Bradley James), son of King Uther (Anthony Head, of "Buffy" fame) and Merlin's hope for a more idealistic future. There's also a young Morgana (Katie McGrath), King Uther's ward and budding sorceress, and a lady in waiting known as Gwen (Angel Coulby), short for (you guessed it) Guinevere, plus a dragon voiced by John Hurt, who is both council to and reluctant servant to dragon-lord Merlin.
I found the first couple of seasons a little light in its mix of mix of pop mythology, medieval fantasy and young adult melodrama, but I have to say the show has grown into its premise a little, thanks to maturing characters and the incorporation of more of the classic legend in the show. Morgana, who went all dark at the end of last season, opens Season Three as the repentant young rebel saved from her misguided path, while in fact she's still in league with the sorceress Morgause (Emilia Fox) and proves it  by raising an army of skeletons to attack Camelot from within while Morgause sends a human army to attack the gates.
The rest of the season is all about Morgana's subterfuge and manipulations while hiding behind the protection of Uther, while the season finale introduced another key piece of the Arthur legend: Excalibur, complete with an entrance lifted right out of John Boorman's 1981 film "Excalibur" (sans the Wagnerian accompaniment and Boorman's emerald sheen of earth magic). Along the way we also get Arthur falling in love with Gwen (much to the ire of his father), the Fisher King, the Cup of Life and the Druids, plus a return visit from Lancelot. It's still episodic and lacks the gravity of something like "Game of Thrones," but the show is improving and it ends by planting the promise of the show taking on more and more of the myths and legends of the Arthur story.
13 episodes on five discs. There is commentary on numerous episodes plus the behind-the-scenes featurette "The Making of Merlin Season 3" and 40-minute featurette from the show's 2010 Comic Con panel — its first appearance at Comic Con. A collection of deleted scenes and outtakes and a gallery of stills fills out the set. DVD only.
For more releases, see Hot Tips and Top Picks: DVDs, Blu-rays and streaming video for January 17