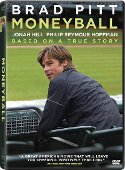 Here's Videodrone's thumbnail guide to what's new, notable and recommended (or not) this week for home viewing. Just click on the titles and links for full reviews and more information.
The New Release Rack
It's not too early to start handicapping your Oscars. This week, weigh the chances of Brad Pitt for Best Actor and Aaron Sorkin and Steven Zaillian for Best Adapted Screenplay for "Moneyball" (Sony), a drama about the business of baseball in the era of multi-million dollar payrolls. On DVD, Blu-ray, Digital Download and VOD, and available on Redbox.
Indie pick this week is "Higher Ground" (Sony), the directorial debut of the fiercely talented actress Vera Farmiga (Blu-ray+DVD Combo Pack, Digital Download and VOD, available on Redbox), and foreign films include Jean-Luc Godard's typically challenging "Film Socialisme" (Lorber), on Blu-ray and DVD, and Hong Sang-soo's wry, meandering character study "Night and Day" (Zeitgeist), DVD only.
Also new (but not necessarily recommended): the action thriller "The Killer Elite" (Universal) with Jason Statham and Robert De Niro and the crude romantic comedy "What's Your Number" (Fox) with Anna Faris. DVD, Blu-ray and Digital.
Browse the complete New Release Rack here
TV on DVD
Director/producer Martin Scorsese teams up with "The Sopranos" writer/producer Terence Winter for "Boardwalk Empire: The Complete First Season" (HBO), HBO's gangster drama set in the Atlantic City of the prohibition era. The second season already ran on HBO, but this the first time the show has been available to non-subscribers. DVD, Blu-ray and Digital Download.
"Primeval: Volume Three" (BBC) features the fourth and fifth series from the British sci-fi action series about dinosaurs, holes in time and human conspiracies. DVD and Blu-ray. And Jack Lord is the last man standing from the original cast in "Hawaii Five-O: The Twelfth and Final Season" (Paramount), which finally pits McGarrett against Wo Fat, mano-a-mano. DVD only.
Flip through the TV on DVD Channel Guide here

Off the Rack – Classic, Cult and Blu-ray Debuts
"The Hellstrom Chronicle" (Olive) won the Academy Award for Best Documentary in 1972, but this look at the savage world insects is not your typical documentary. On DVD and Blu-ray.
"Sid & Nancy" (Fox), Alex Cox's tribute to the strange real-life love story of Sid Vicious and Nancy Spungen, was Gary Oldman's breakthrough role. It debuts on Blu-ray.
Netflix Instant
Abbas Kiarostami's "Certified Copy," starring Juliette Binoche, was hailed as one of the best films of the year. It's not on DVD yet, but you can stream it on Netflix and there is an HD edition available.
Also new on Netflix Instant Streaming: John Huston's classic romantic adventure "The African Queen" (1951) with Humphrey Bogart and Katharine Hepburn, both the original John Wayne version of "True Grit (1969)" and the Coen Bros.' remake True Grit (2010)" with Jeff Bridges and Matt Damon and the absurdly gory horror-comedy "Tucker & Dale vs. Evil."
Browse more Instant offerings here
New at Redbox
"The Rise of the Planet of the Apes" (Fox), the superb reworking of the classic science fiction series, is smart, exciting and built on the most vivid simian star since King Kong (courtesy of Andy Serkis), and it's now available through Redbox. That's in addition to "Moneyball," "Higher Ground" and "1911," all arriving the same week as in stores and on the web.
For more releases, see Hot Tips and Top Picks: DVDs and Blu-rays for January 10