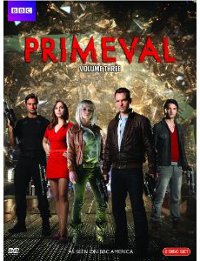 Primeval: Volume Three (BBC) features the fourth and fifth series of the British series about a covert team that tracks temporal anomolies — time cracks between the present and the prehistoric era — and the creatures (mostly dinosaurs) that wander through them. The third series ended with junior team members Connor and Abby (Andrew-Lee Potts and Hannah Spearritt) trapped in the Cretaceous Period and this collection begins with their return to a whole new ARC team, now led by Matt Anderson (Ciarán McMenamin), and a new set of mysteries and conspiracies.
That makes Connor and Abby the squad veterans, not that their sardonic boss (Ben Miller) gives them any such respect, and Connor almost immediately falls under the sway of private sector entrepreneur and inventor Philip Burton (Alexander Siddig) who has his own plans for manipulating the time-travel technology with the top-secret New Dawn project. That puts Connor is a very awkward position, forced to choose between Abby, who he's been madly in love with since the first episode, and his hero-worship of Philip. And to add spice to the mix, Matt falls in love with a 19th century time-traveler (Ruth Bradley) and third-season star Jason Flemyng (still the liveliest and most entertaining of the show's actors) makes a memorable return appearance.
The budget-minded CGI creatures are good enough for the pulp premise of the show and if the plotting gets a little contrived (how many times can you bend a character's personality to make a plot twist work?), it still hold its own with the average SyFy Channel original. Which is just where this show finds its fan base. 13 episodes on four discs on DVD and Blu-ray, plus the two-part making-of featurette "New Dawn" and prequel webisodes.