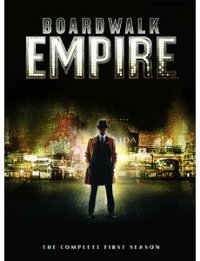 "To those beautiful, ignorant bastards!"
Boardwalk Empire: The Complete First Season (HBO) opens with Nucky Thompson (Steve Buscemi), the treasurer of Atlantic City and the man who runs the town — and the graft — from behind the pose of public service, toasting the U.S. Congress and the new possibilities that the twenties will bring, thanks to the utterly disastrous "noble experiment" known as Prohibition. Everything changes from that moment.
Created by "The Sopranos" writer/producer Terence Winter, based on the book by Nelson Johnson, and co-produced by Martin Scorsese (who directs the pilot episode), "Boardwalk Empire" is a lavish period drama that chronicles the birth of the modern organized crime syndicate, built on the fortunes made bootlegging liquor and running illegal imports of the real stuff from out of country. Nucky isn't a gangster per se, merely a thoroughly corrupt politician with his fingers in everything and a gift for keeping a harmonious balance, but the competition for territory by rivals pushes him to more violent methods, and more volatile partnerships: Arnold Rothstein (Michael Stuhlbarg of "A Simple Man"), Lucky Luciano and a young Al Capone among them.
This is a grand canvas of characters, both real and historical, with the quasi-fictional Nucky (based loosely on real life Atlantic City treasure Enoch "Nucky" Johnson) as the low-key power broker at the center. Michael Pitt co-stars as Nucky's would-be protégé Jimmy Darmody, a young World War I vet serving as muscle but with the ambition and smarts for much more, and Kelly Macdonald is a poor Irish immigrant who becomes a widow (thanks to Nucky) and, later, Nucky's mistress. Michael Shannon rounds out the primary characters as the pious FBI Agent Nelson Van Alden, who treats his job like a holy crusade but has his own demons, but dozens of characters and stories weave through their journeys, including Shea Whigham as Nucky's brother and the county sheriff, Paz de la Huerta as Nucky's showgirl mistress, Michael Kenneth Williams (of "The Wire") as Nucky's opposite in the black community and Dabney Coleman as The Commodore, the retired boss of Atlantic City.
It's also a magnificently mounted piece of television centered on a fabulous recreation of the old Boardwalk (built in Brooklyn as a standing set and extended / filled out via the magic of CGI). It's where Nucky conducts business and it's the social center of the city and the show, but be the end of the first season, the show's reach extends to Chicago and New York as the networks are established and the pipelines of liquor established.