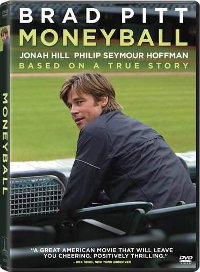 Brad Pitt makes it look effortless in Moneyball (Sony), a drama about the business of baseball in the era of multi-million dollar payrolls based on the non-fiction bestseller by Michael Lewis.
Pitt plays Oakland Athletics general manager Billy Beane, struggling to field a competitive team against organizations with much deeper pockets. His solution is to — with the help of unprepossessing Peter Brand (Jonah Hill), a geeky numbers-cruncher whose radical ideas are dismissed by every other club in the league — completely throw out the conventional wisdom and apply a whole new set of metrics to measure player skills. It's not sexy but it is remarkably effective.
This is a different kind of underdog sports movie, one where percentages and balance sheets and backroom trades are bigger drama than home runs and double plays. The film's triumph is in turning that sports geek detail into the stuff that wins are made of.
Pitt's conviction in the role of Beane, once a rookie player with potential that never developed into success, turns the volleys of negotiations over trades and verbal showdowns over his unconventional ideas into dazzling drama. Under Pitt's easy-going performance of charm under pressure is a man putting his entire career on the line, and while he hides it under a cocky grin and boyish twinkle, we can feel the gravity of his position. Count on Pitt getting a nomination, as well as one for screenwriters Aaron Sorkin and Steven Zaillian.
Continue reading on Videodrone
For more releases, see Hot Tips and Top Picks: DVDs and Blu-rays for January 10