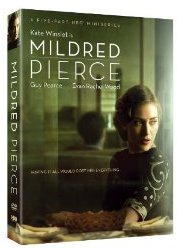 Mildred Pierce (HBO) is less a remake than a new run at adapting the James M. Cain novel.
Previously made into a Hollywood classic (which earned Joan Crawford her only Oscar), it's been transformed into a five-hour mini-series by Todd Haynes, who casts Kate Winslet in the title role as the mother blindly devoted to her sneering, status-conscious daughter. There's none of the murder mystery plot that Hollywood added to the depression-era melodrama.
This is a character study in maternal sacrifice, a skewed success story rooted in guilt and damaged self-esteem and powered by willful blindness of her daughter Veda's (Evan Rachel Wood) evolution and her own compromises. She enables Veda's class snobbery and helps create the cold, manipulative human monster she becomes.
With the luxury of time, this series fills out Mildred's relationships to her husband (Brían F. O'Byrne), her husband's partner with whom she has an affair (James LeGros) and Monty Beragon (Guy Pearce), her broke aristocrat of a lover. And Haynes looks to the sepia tones of seventies Hollywood period pieces for the period recreation depression-era Los Angeles.