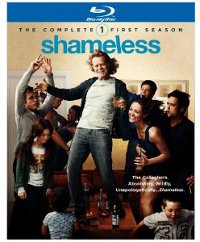 From Showtime comes Shameless: The Complete First Season (Warner), the American incarnation of the British dramedy relocated from Manchester to South Chicago. William H. Macy stars as Frank Gallagher, the perpetually drunk single father of six kids and Emmy Rossum is eldest daughter Fiona, who juggles multiple jobs to raise the kids in his absence. It's not that he's run off. He's just not around. Or passed out those rare times he is home.
Frank is a Chicago Irish reprobate who spouts a lazy line of sloppy libertarianism, confused conspiracy theory and crude cynicism, whatever serves his immediate purpose. But he clearly doesn't believe in anything apart from getting his next drink, which he funds by scamming disability payouts and doing a little light thieving. It's up to Fiona to make the rent, the electric bill, the groceries, with the help of siblings who step up to help out where dad fails to come through.
The show flits between treating Frank as a lovable drunk with incorrigible antics and a worthless waste of space the rest look after out of family duty. And just when you think they couldn't do worse, the mother who abandoned them without a word almost two years ago returns to prove otherwise. But there are far more screwed up people in the this series – adults and kids – than the Gallagher family, at least the kids, who have pulled together to take care of each other. And so what if Fiona's boyfriend (Justin Chatwin) is a car thief with a double identity? He's the kind of guy who steps up to look out for the kids in a way dad would never even consider. It's not your traditional portrait of family values, but it works here.
12 episodes three discs on DVD and two discs on Blu-ray, plus a substantial collection of supplements. There is commentary on two episodes (including the original pilot), two featurettes (one on adapting the British show in an American context, the other an overview of the show and its characters) and a lively, unrated conversation about sex with the four co-stars you definitely want hear from on the subject.