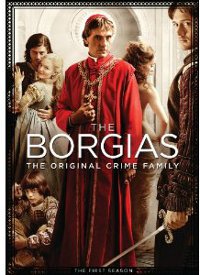 Okay, I stole that headline right out of the show's own advertising, but it was just too good to pass up. The Borgias were the most notorious family of their time, an aristocratic house that amassed power through tactics worthy of a Shakespeare villain.
Created by Neil Jordan, who directs the first two episodes and scripts all ten episodes of the first season, The Borgias: Season One (Paramount) opens with family patriarch Rodrigo Borgia (Jeremy Irons, perfectly restrained), a powerful Cardinal within the Vatican, ensuring his succession to the Papal throne. There's no murder yet, merely bribery, coercion and the promise of political favors: illegal, yes, but just a little corruption between cronies in a church that rivals the power of some countries in Renaissance Europe.
The Borgias appears to follow the same formula of The Tudors, a recipe of royal intrigue, aristocratic decadence and lusty sex in the courts of old Europe, but Jordan is more interested in chamber drama than melodrama. The first season is about the early days of the dynasty and the education of the two Borgias who will become the most notorious of the clan: Cesare (François Arnaud), Rodrigo's heir and consigliore (to use a term from "The Godfather"), and Lucrezia (Holliday Grainger), the golden-haired, apple-cheeked daughter whose innocence isn't corrupted so much as educated by the joys of power. She is definitely her father's daughter. It's all very interesting but never really comes to life until the final episodes of the season.