New Releases:
Part prequel, part reboot and part reimagined origin story, "The Rise of the Planet of the Apes" (Fox) " is not simply a revival of a beloved seventies series that took a serious dive into high kitsch. It's a terrific character piece, a gripping prison break thriller with a wicked high-concept twist and the smartest action movie of 2011. Andy Serkis delivers a motion capture performance more dense and complex than any of his human co-stars and grounds the high-concept idea in a character you can't help but root for. On DVD, Blu-ray and digital download. Videodrone's review is here.
"Kung Fu Panda 2" (Dreamworks) reunites Po and the Furious Five to defeat a terrible new villain: a scheming peacock voiced by Gary Oldman. It "packs lots of firepower," according to MSN film critic Kat Murphy, but it "deserves better than the movie's largely uncomplicated cartoon characters and adventures." On DVD and Blu-ray. See an exclusive clip on Videodrone here.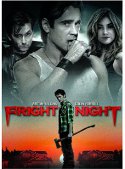 "Fright Night" (Dreamworks) is a remake of the colorful 1985 film, by now something of a minor cult favorite, with Anton Yelchin as the kid who suspects his darkly charming neighbor (Colin Farrell) is a vampire. MSN critic Glenn Kenny was "pretty pleasantly surprised by this version." On DVD, Blu-ray and Blu-ray 3D, plus digital download and OnDemand.
Tsui Hark directs the "Detective Dee and the Mystery of the Phantom Flame" (Indomnia), a dazzling (if at times silly) Hong Kong action spectacular of martial arts magic and CGI mayhem. On DVD and Blu-ray. "Circumstance" (Lionsgate) is a coming-of-age drama set in Iran, where two vivacious teenage girls must keep their growing attraction a secret.
Also new this week: "Tanner Hall" (Anchor Bay) with Rooney Mara, the indie drama "Daddy Longlegs" (Kimstim/Zeitgeist) from Josh and Benny Safdie and the documentary "The Black Power Mixtape 1967-1975" (Sundance Selects/IFC).
Browse the complete New Release Rack here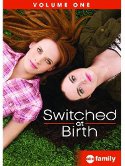 TV on DVD:
"Switched At Birth: Volume 1" (ABC) is the latest ABC Family Channel teenage melodrama with a twist, this one pretty much explained in the title: a well-to-do family and a single mom discover that the daughters they raised are not their biological progeny. The real drama begins when they kind of move in together: a collision of class, culture and child-rearing philosophies. That one of the teenage girls is deaf simply adds another culture into the mix. I don't why, but I have a fondness for these family-friendly soaps and this is one of the better ones. Videodrone's review is here.
"Spin City: Season Six" (Shout! Factory) features all 26 episodes of the final season of the sitcom that Michael J. Fox launched. Charlie Sheen took the lead for the final seasons but Fox is back as a guest star for the first three episodes. "Family Guy: Volume 9" (Fox) features 14 episodes from seasons 8 and 9.
Also arriving this week: the animated HBO series "The Life and Times of Tim: The Complete Second Season" (HBO), the long-running "Gunsmoke: The Fifth Season, Volume 2" (Paramount) and the PBS documentary "Steve Jobs: One Last Thing" (PBS).
Flip through the TV on DVD Channel Guide here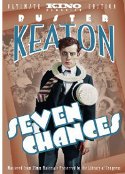 Cool, Classic and Cult:
Buster Keaton's "Seven Chances" (Kino), which features one of the funniest climactic chases in all of silent film, is remastered for DVD and Blu-ray. Videodrone's review is here.
Not quite so classic but also remastered for DVD and Blu-ray is the 1998 gore horror "Intruder: Director's Cut" (Synapse), co-starring Bruce Campbell Sam Raimi and packed with supplements.  "Stars and Stripes Forever" (Fox), the glossy 1952 20th Century Fox biopic starring Clifton Webb as "The March King" John Philip Sousa, debuts on both DVD and Blu-ray in a single combo pack.
For an alternative that definitely earns the title "alternative" there is "Moses and Aaron" (New Yorker), a screen adaptation of the Arnold Schoenberg opera by Danielle Huillet and Jean-Marie Straub.
All of the Cool, Classic and Cult here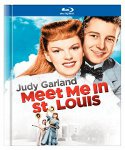 Blu-ray Debuts:
"Meet Me in St. Louis" (Warner), Vincent Minelli's first Technicolor film and the ultimate in Hollywood Americana, is a film for all seasons and holidays, including one of the most bittersweet Christmas scenes of all time: little Margaret O'Brien commits symbolic parricide on an innocent snowman family after Judy Garland sings "Have Yourself a Merry Little Christmas." It arrives in a Blu-ray Booklet special edition with a bonus four-song CD sampler. Videodrone's review is here.
Before he directed "Captain America," Joe Johnson directed the retro-superhero adventure "The Rocketeer: 20th Anniversary Edition" (Disney), starring Bill Campbell as the test pilot with an experimental rocket pack. And as the remake bows on home video this week, the original "Fright Night" (Twilight Time) debuts Blu-ray.
"The Expendables: Extended Director's Cut" (Lionsgate) adds ten minutes to Sylvester Stallone's testosterone-fueled mercenary adventure.
Also new this week: Todd Haynes' "Velvet Goldmine" (Miramax), Peter Jackson's "Heavenly Creatures: The Uncut Version" (Miramax) and the 1922 "Sherlock Holmes" (Kino) with John Barrymore.
Peruse all the new Blu-rays here