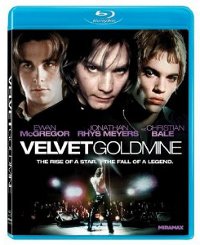 Todd Haynes' 1999 film "Velvet Goldmine" (Miramax) reimagines the Glam rock era and the iconic influence of David Bowie through the kaleidoscopic lens of "Citizen Kane" and the fictionalized persona of rock legend and bi-sexual pop icon Brian Slade (played by Jonathan Rhys-Myers). A young, fresh-faced Christian Bale plays the reporter digging into the mystery of Slade's rise and fall and Ewan MacGregor almost steals the film as the punk pioneer Curt Wild (equal parts Iggy Pop and Kurt Cobain), the genuine article to Slade's calculated, coifed image of glitter stardom.
It's a blast, with bouncy music, flamboyant costumes, a fab sense of period, and a complex narrative interweaving of flashbacks, shifting perspectives, public personas and private personalities with Slade as the film's slippery Charles Foster Kane. But it's also a study in reinvention and the fluid definition of identity and sexuality embraced by the subculture around the music, the first youth movement to openly accept and embrace ideas of bisexuality and homosexuality.
Haynes revisited the film in November when he recorded a brand new commentary track with producer Christine Vachon for the film's Blu-ray debut and talked with Videodrone about the revisiting the film, its reverberations with his other fictionalized biography "I'm Not There" and, as always, what he's been watching.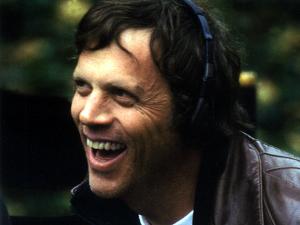 What are you watching?
Todd Haynes: I'll tell you one really cool thing I watched. I recently met Stephen Sondheim, who is an *intense* movie buff, and he asked me what my favorite Douglas Sirk movie is. And he said, "I have mine," and I said, "Well, I want to hear yours." And he said, "Mine is 'Scandal in Paris' from the late forties," which is one of his very first English-speaking films that Douglas Sirk directed in the United States. You can get it on Amazon. I had read about the movie and I had seen a lot of more obscure Sirk films over the years but it was fantastic. It knocked my socks off. And you can see a connection between the great director Max Ophuls and Sirk like you never have before in this film. That was a complete surprise.
Otherwise I have been watching some of the screeners of new movies that have been coming out bit by bit. I just watched "Young Adult" last night, which I thought was pretty interesting.
Are you a voting member of the Academy?
Haynes: I am.
What are some of the films this year that you have most liked?
Haynes: I had the treat of watching "Hugo," Scorsese's new 3D movie, on Thanksgiving Day at the Ziegfeld Theater. And it was just such a complete and total treat, just visually in its aesthetic, just such a tribute to early cinema and the origins of what obviously started to make Scorsese's mind tick with this love poem to the Méliès story. That was a really fun one. But I'm still waiting to see some serious films that are still emerging. It seems like it's backloaded this year from Christmas so there are still a lot of stuff I haven't seen that I've been hearing about.