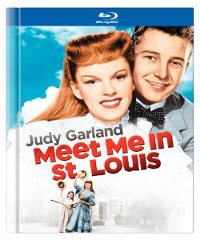 Meet Me in St. Louis (Warner), Vincent Minelli's first Technicolor film, is the ultimate in Hollywood Americana and a masterful musical that turned Judy Garland into a true leading lady.
A celebration of old fashioned values in song, dance, and family melodrama in turn-of-the-century St. Louis, the glowingly nostalgic tale follows a year in the life of a family as they reluctantly prepare to move to New York for Father's (Leon Ames) new job, just as the excitement for the coming St. Louis World's Fair sets the entire family to singing the title song. It's a film for all seasons and holidays, including one of the most bittersweet Christmas scenes of all time: little Margaret O'Brien commits symbolic parricide on an innocent snowman family after Judy Garland sings "Have Yourself a Merry Little Christmas." (see clip below, after the jump)
O'Brien brings a feisty spunk to the family as the youngest sister and Lucille Bremer provides the maturity as the oldest, but the film belongs to Garland as the teenage daughter on the verge of womanhood, chastely romanced by the boy next door (Tom Drake). The scene where they extinguish the home's gas lamps together and the hush of shadow covers them is one of the most beautiful and tender moments of understated intimacy in film history. Other song highlights include "The Boy Next Door," "You and I," and "The Trolley Song." Mary Astor, Marjorie Main, and June Lockhart co-star.
The film was previously available on a DVD two-disc special edition and the Blu-ray only carries most of the supplements. There's commentary by Garland biographer John Fricke with Margaret O'Brien, screenwriter Irving Brecher, songwriter Hugh Martin and daughter of producer Arthur Freed, Barbara Freed-Saltzman and an introduction by Liza Minnelli (daughter of director Vincent Minnelli and star Judy Garland), plus a music-only audio track (without vocals).