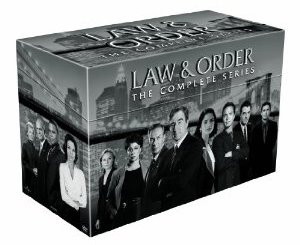 Law & Order: The Complete Series (Universal)
The powerhouse crime-drama was practically under the cultural radar for years before people realized it was not only one of the most popular shows on TV, it was one of the best. This was long before it spawned so many spin-offs that the brand was practically its own crime show network, when it was simply a show with a brilliant structure and a memorable "chong-chong!" punctuation sting in every transition.
The show launched in 1990 with a line-up that featured Chris Noth and George Dzundza investigating the crimes under the Captain, Dann Florek, and Michael Moriarty and Richard Brooks manning the prosecution for D.A. Steven Hill. By the time it was retired in 2010, there wasn't a single original cast member left. Fans have their favorites, and usually the venerable Jerry Orbach, who began his 12 season run as Det. Lenny Briscoe in the third season, leads the list. My favorite is the perennially underrated Noth as the brash, hot-headed Det. Mike Logan, right there from the first episode and, more than any other character in the series, evolving through his tour of duty. Jill Hennesy joined the prosecution side in the fourth year, Sam Waterston took lead chair in season five (and continued through the end of the show, ultimately taking elder statesman duties as the D.A. (after Dianne Wiest and Fred Dalton Thompson both served their terms).