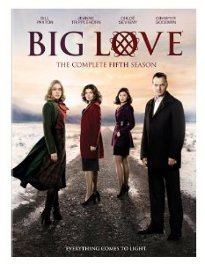 Big Love: The Complete Fifth Season (HBO) brings HBO's big family drama of polygamy in Salt Lake City to a close with Mormon businessman and newly-elected state senator Bill Henrickson (Bill Pullman) putting his plural marriage (previously hidden from the public) into the spotlight: a political act to make the case for legalizing this bedrock of original Mormon belief. No surprise that the greatest resistance comes from the Mormon Church and devout politicians, who view his beliefs as an embarrassment to the modern Mormon faith and a distraction in the church's efforts to find acceptance from the rest of America. (Timely, that, considering the Republican primary race.)
While the show had a tendency to get lost in contrived complications (especially in Bill's blinkered aspirations), at its best it offered a skewed yet impassioned perspective on faith and family values. This season is no different, on all fronts. Along with the harassments and threats brought on by the public coming out, he's targeted by a crazed Alby Grant (Matt Ross), the angry, corrupt new "prophet" of the polygamist compound Bill is trying to shut down, and the criminal underground that lives in the shadows of the outcast polygamist "tribes" living outside of society. And then there is the petty nastiness of second wife Nicolette (Chloe Sevigny), who plays tattletale and playground bully while constantly playing the victim in a perpetual state of arrested adolescent behavior.
And finally, it's harder and harder to respect Bill's idealistic dreams while friends and family members take the brunt of the attacks. Paxton never falters in his commitment to the role, but when the series skids through soap opera melodrama and crime movie complications, his unwavering stand isn't all that much different from the cult leaders and compound dictators he take on. At least until it all comes to a head in the final episodes. And I'll give this season credit for finding perhaps the only satisfying way to bring all this to an end and still honor the best of the show's ideals. The often conflicted members of the family are still unequivocally devoted to and protective of all of its members, no matter what melodrama is twisting them around. That's the kind of big love it takes to hold the clan together.