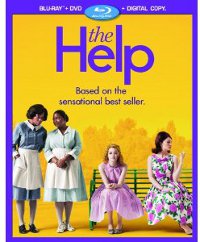 This season's favorite to "Blind Side" the Academy Awards with a sentimentalized tale of race relations and a feisty white woman leading the charge is The Help (Touchstone), based on the bestselling novel by Kathryn Stockett and directed by her childhood buddy Tate Taylor.
Emma Stone stars as Skeeter, the only college grad of her group of girlfriends in early 1960s Jackson, Mississippi, who returns home with a different point of view that clashes mightily with Hilly, the social leader (Bryce Dallas Howard in arch, hissable form) of the town's affluent wives and Skeeter's former best friend. As she leads the campaign to further segregate the black maids and housekeepers and nannies from the white families they serve, Skeeter starts interviewing the help to tell their story to a country just starting to wise-up to the civil rights struggle in the South.
The film was as popular as the novel, even with its simplification of a complicated social relations and its idealized hero. Arriving almost 50 years after the events presented in the film, this isn't some brave piece of social commentary, it's a wish fulfillment fantasy that praises the courage of a maverick young white woman defying society at the risk of (horrors) being ostracized from polite society. Which, of course, never actually happened. Not that it stops the film from equating her (fictional) courage with the (reality-based) ordeals faced by the black characters of the novel. Or from celebrating the public humiliation of the cruel, racist social queen bee as some kind of victory. In a culture where the stakes are life and death, this film too often reduces the lives to soap opera melodrama.
Continue reading on Videodrone
For more releases, see Hot Tips and Top Picks: DVDs and Blu-rays for December 6