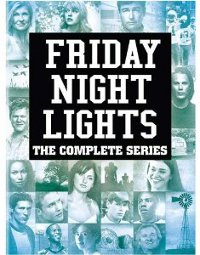 Friday Night Lights: The Complete Series (Universal)
Friday Night Lights was a best-selling book and a well-received feature film before director Peter Berg shepherded the project to television for an acclaimed series. It never grabbed big ratings, but racked up solid reviews and passionate viewers and earned a second life when DirecTV partnered up with NBC for a unique broadcast model that kept it going through five seasons (albeit in the shorter, cable-styled seasons).
Kyle Chandler stars as the new head high school coach in a small Texas town that eats, drinks, and breathes football and isn't shy about telling him exactly what he's doing wrong every time to walks out into public, and Connie Britton reprises her role from the film as his supportive but independent-minded wife, forming the foundation of the family drama.
The rest of the show belongs to the drama on and off the gridiron and the show's greatest hurdle was convincing viewers that it was not a sport drama, it was a drama about people whose lives were — for better and for worse — defined by sports. And that's what the show did so well, and not just in triumph or defeat. It illustrated how team sports can encourage students, teach them leadership and life skills and give them a sense of accomplishment, and conversely how defining oneself so narrowly leaves so many former football heroes struggling for identity and careers long after their glory days are over. It also told stories of students struggling to deal with broken families, absent fathers and failed role models and much of the show's satisfaction comes from characters — adults and students both — who step up to take responsibility for themselves and others.