Smallville launched in 2001 as a superhero series by way of a Dawson's Creek style young adult melodrama: teen angst with a kryptonite boost and moral lessons in a freak-of-the-week serial. Tom Welling looked more like a Tiger Beat cover model than a small town farm boy, but his gentle blue eyes and aw-shucks smile made his high school freshman Clark Kent all innocence as his powers emerge as he grew up — not your usual problems with puberty. The producers made a point of never putting Clark into the familiar costume. This was a show about the boy — and the man — before he was Superman.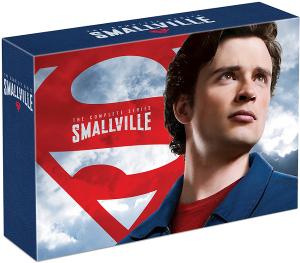 The series had its ups and downs and almost ended after falling ratings in its seventh season but it improved enough to win back audiences and power through ten seasons to end on the long-awaited and highly-anticipated sight of Welling's debut in the familiar red, white and blue costume, streaking off to save the world as Superman. In the process, it became the longest-running superhero series on television.
Smallville: The Complete Series (Warner) is one of the most impressive TV box sets of the year, a collection of all 218 episodes and supplements, plus exclusive bonus supplements, on 62 discs in a box set of hefty digibook cases. It's DVD only (seasons 6 – 10 are the only seasons available on Blu-ray) and the two digibook cases feature stiff paperboard sleeves rather than trays (which means fingerprints on the disc and a fears of scuffing when removing and returning them to the case), but it's a solid, substantial set.
The show stands up to the revisit, from the touch-and-go almost romance with Kristin Kreuk's Lana Lang and the unlikely friendship with Lex Luthor (Michael Rosenbaum), the bad-boy millionaire trying to make good before slipping back into bad to long-simmering romance with Lois Lane and the building of the "Smallville" superhero universe. In those early seasons, the strength of the show was in the warm the family relationships with John Schneider and Annette O'Toole as his rock steady, salt of the Earth adoptive parents, who balance moral backbone with just a touch of modern sexiness, and the tension with his Kryptonian father Jor-El (voice of Terence Stamp). It's satisfying to see it come full circle in the final season.
The 218 episodes are on 60 discs. The final two discs features supplements exclusive to this set. Some fans will be most interested in the rare 1961 pilot "The Adventures of Superboy," if only out of curiosity and archival interest, but the presentation is frustrating: the program is shown small in the screen, framed within the picture of an old console-style TV set. The show itself is pretty corny and a little stiff and it never made it to series. This is the first time it's been released on home video.