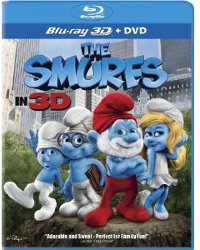 All right, who smurfed?
Yes, that is actually a line from "The Smurfs" (Sony), the big screen debut of the little blue heroes of comic book and animated TV fame (arriving on DVD, Blu-ray and digital download on Friday, December 2). Think of them as miniature playdough versions of the seven dwarfs (multiplied into an entire village) as little blue children: there's Clumsy Smurf, Brainy, Gutsy, Greedy, Grouchy… you get the idea.
There's also Smurfette (voiced by Katy Perry), the sole female in this vaguely masculine society, and Papa Smurf, the sage voice of reason and advice. His voice is in fact a very paternal Jonathan Winters, who is about the only one here not going for cartoon extremes as the little blue CGI creatures scramble and sing through live action New York City after they get sucked out of their magic mushroom forest home and get adopted (sort of) by human couple Neil Patrick Harris and Jayma Mays.
And if you think these guys are animated, get a load of Hank Azaria, who is even more of a cartoon as the hygiene-challenged troll of a wizard Gargamel, their eternal nemesis. Or for that matter Harris as the earnest young ad executive and Mays as his optimist of a wife, who fishes one of the little blue guys out of the toilet and makes friends. Yeah, I know, it's not the message you really want to send to a little kid, but there you have it.
The feature film, directed by Raja Gosnell (whose experience with CGI characters in live action movies dates back to the "Scooby-Doo" films), is most definitely targeted toward kids, with big, broad gags and zippy action, while a few self-effacing lines acknowledge the adults in the audience but fail to offer much else for anyone over the age of 12. But apparently the nostalgia factor worked wonders in turning "The Smurfs" into a hit and putting a sequel into the works. Call me Grouchy, but I say grown-ups should just say smurf it and avoid the film completely.
Continue reading at Videodrone
For more releases, see Hot Tips and Top Picks: DVDs and Blu-rays for November 29