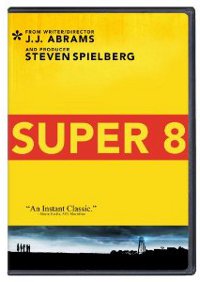 Written and directed by TV wunderkind turned megamovie director J.J. Abrams, Super 8 (Paramount) has the DNA of a Steven Spielberg tale. Set in 1979, before the home video revolution put video cameras in the hands of movie-mad kids, this is a monster movie adventure powered by creative kids, a love of movies, and an authentic foundation of mystery and wonder as seen from the perspective of schoolkids old enough to make their own zombie movie on super 8 film and young enough to get so excited by it.
Too bad that director J.J. Abrams pays more attention to the pyrotechnics than to the kids in the middle of it. When the kids sneak out to film their big scene at a train station at night and the train derails, it kind of derails the film as well. Sure, it unleashes the monster and subsequent military conspiracy that drives the rest of the movie, but instead of putting us into the shoes of the kids, it piles on the CGI overkill, turning it into just another Hollywood explosion fantasy. The rest of the big spectacle scenes follows suit, going big rather than going intimate, and Abrams doesn't have Spielberg's understanding of suburbia, of kid and of family. It hits all the right notes, but Abrams isn't playing with feeling.
He does, however, get a lot right, from the model building and pre-teen monster movie fandom and the often argumentative and contentious chemistry of groups of boys to the rickety emotional world of kids still reeling from loss and trying to take the first steps as their own people. And Abrams gets performances from his young cast, especially Elle Fanning as the well-possessed young woman they cast in their film, but also first-timer Joel Courtney as the boy still recovering from the loss of his mother months before. These two kids connect in an authentic and convincing way that the rest of the film never quite manages.