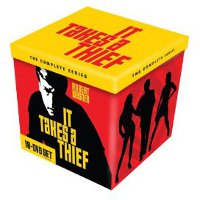 It Takes a Thief: The Complete Series (eOne) comes out of the same sixties cold war culture and American adventurism of shows like Mission: Impossible and The Man From U.N.C.L.E., but in place of the suave superspy is the slick civilian thief and con man drafted into government service.
Robert Wagner is the career criminal Alexander Mundy, sprung from prison in exchange for applying his talents to special assignments. "We're not asking you to spy," explains his agency boss Noah Bain (a wonderfully wry Malachi Throne). "We're just asking you to steal." Wagner is perfect for the role, part James Bond playboy spy and part all-American operator, always with an eye toward the ladies between (and often during) missions, and the show has a great line-up of guest star beauties on both sides of the spy game, including Susan Saint James in a recurring role as a fellow thief who crosses his path more than once. Malachi Throne left the series after two seasons and was never really replaced but the third and final season has its own rewards: it was shot in Italy, which gives the season a real international flavor and glamour, and brings in Fred Astaire in a recurring role as Alexander's father Alistair, the globetrotting master thief who taught Alexander everything he knows.
The 18-disc box set presents the entire three-season run, all 66 episodes, plus the expanded feature version of the pilot that was released to theaters. The image quality, however, is spotty. Apparently mastered from 16mm television prints, the first season episodes I sampled looked fine but the later seasons are mastered from faded and dull and often worn prints, and some episodes appeared to be old, pre-digital video masters. Each season is in a flimsy fold-out paperboard digipak with slipsleeves rather than trays, and the supplements are limited to new interviews with Robert Wagner and producer/writer Glen A. Larson. The box is a little cheap, sad to say. And there's also a set of coasters.