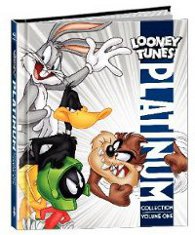 Looney Tunes Platinum Collection: Volume 1 (Warner) promises "50 of the greatest shorts the studio has ever made" and I while I may quibble over specific choices, I can't fault the overall curation of the collection, which leans toward the diversity of artists, characters and styles through the golden age of the Warner animation unit.
Disc One features the best of the defining characters: Bug Bunny, Daffy Duck, Elmer Fudd, Porky Pig, plus Sylvester and Tweety, Road Runner and Wile E. Coyote, Yosemite Sam, Foghorn Leghorn, Pepe le Pew and Speedy Gonzales. Among the 25 cartoons collected here are Chuck Jones' two brilliant opera spoofs "Rabbit of Seville" and "What's Opera, Doc," Daffy in "The Scarlet Pumpernickel" and "Robin Hood Daffy," the Oscar-winning "Tweetie Pie" (the debut of Tweety Bird), two definitive Road Runner classics and one of the greatest cartoons every made: "Duck Amuck," where Daffy goes to war against a prankster animator.
Disc Two is a treasure trove of the studio's greatest one-shots and minor creations. Along with such one-offs as "One Froggy Evening" (the wordless masterpiece with the all-singing, all dancing frog) "The Three Little Bops" (a jazzbo rendition of The Three Little Pigs with Stan Freberg doing voice duty) and "The Dover Boys at Pimento University" (Chuck Jones' wonderfully surreal parody of 19th century dime novels with Tom, Dick and Larry and not-so-helpless damsel Dora) are the complete golden age appearance of Marvin the Martian (five cartoons, including "Duck Dodgers in the 24½th Century"), the Tasmanian Devil (five cartoons), Witch Hazel (four), kitten-loving canine Marc Antony (three) and Ralph Richards, the boy daydreamer whose flights of fantasy take him through the most delightful of boy's own adventures (two cartoons, both directed by Chuck Jones).