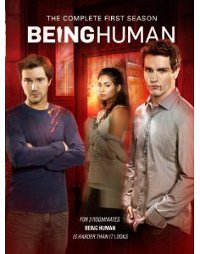 Being Human: The Complete First Season (U.S.) (eOne) is the American incarnation of the original British series about a vampire, a werewolf and a ghost who become roommates in a Boston house.
Yeah, I know it sounds like the set-up for a joke, but it's really another entry in horror TV in the post-"Buffy" era, and it's one of the better ones. The original British series started strong, telling the story of "monsters" trying to live human lives while resisting the pull of their new supernatural instincts and communities. Which, of course, is complicated when you sprout fangs at the promise of fresh blood, turn into a hairy, feral killer at the full moon or have a tendency to unleash an earthquake in the home whenever your emotions get out control. That's exactly when you can use a little help from your friends.
I liked the first season of the original British series but thought it lost its way in the second season. The debut season of the American series, which at 13 episodes is almost as long as the first two British seasons combined, turns out to be a sturdier construct than the original.
It's remarkably faithful to the storylines of the original while adding new threads of its own and it makes good use of the extended season to slow down the pace and explore their journeys and their struggles. Sam Witwer has that bad-boy edge and malevolent smile thing down as Aidan the reformed (but still tempted) vampire, Meaghan Rath is as cute as her excitable British counterpart as the ghost Sally, and I really like Sam Huntington as the nerdy sad-sack werewolf Josh, who has an even greater conflict than his British counterpart when he gets a human pregnant. That's gonna be a difficult during the full moon.