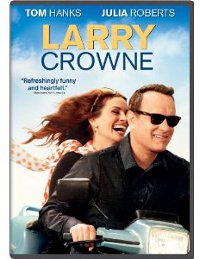 "Larry Crowne" (Universal), directed and co-written by and starring Tom Hanks, just wants to be liked. Hanks plays a department store salesman who gets downsized in the economic climate and enrolls in community college to get a degree and a new start and he's as sweet and unassuming and genuine a fellow as you'll see in a film this year. Of course he's just the guy to pull his speech teacher (Julia Roberts) out of the funk of career burnout and a miserable marriage (Bryan Cranston, a procrastinating writer who spends his days searching vintage porn).
Hanks wants to tap into the zeitgeist of the era — Larry is just another hard working citizen upended in the culture of economic instability and career turmoil — but the script (co-written with Nia Vardalos, who has a way of softening any material to inoffensive mush) lacks any sense of gravity. Hanks has too much moxie to let little things like unemployment and an underwater mortgage get him down and good old Larry lets go of everything with so little anxiety that it's like he was never invested in the first place.
What the film has going for it mostly is the company. Larry is so unthreatening that the cutest girl in school (Gugu Mbatha-Raw) makes him her new BFF, much to the frustration of her would-be boyfriend (Wilmer Valderrama), and he ends up charming the entire motor-scooter club. That's right, it's community college and these guys buzz around on buzzing little scooters. That's how this film rolls.