Known as "The Platinum Blonde" and "The Blonde Bombshell," Jean Harlow was a natural sex symbol for the thirties: gorgeous and shapely, yes, and her fondness for skipping undergarments and wearing low-cut gowns didn't hurt either, but she was also street smart and savvy.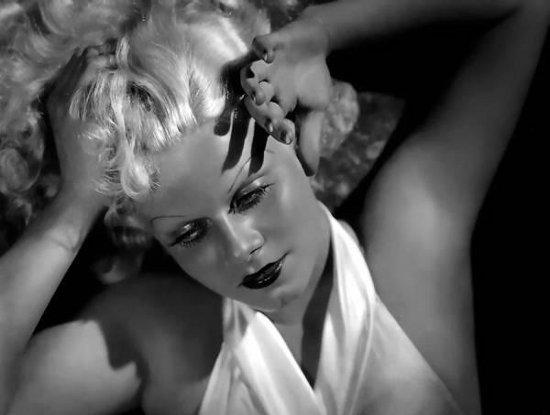 Though never a greatest of actresses (she didn't hold a candle to Carole Lombard, for one), she could hold her own opposite the best of them and MGM paired her up with their top actors: William Powell (her great love), Spencer Tracey and especially Clark Gable, with whom she starred in six film. Even in her most glamorous roles, there was a little of the girl who grew up scrapping her way to success, and her death in 1937 at the age of 24 (from kidney failure) kept her image frozen in place: the all-American sex bomb, both glamorous and down-to-earth.
Most of her greatest films have already been released on DVD—The Public Enemy, Platinum Blonde, Red Dust, Dinner at Eight, Libeled Lady—but not all of them. The Warner Archive box set Jean Harlow 100 (Warner Archive) features seven films from her prime including one of her best ever, the snappy screwball showbiz satire Bombshell (1933).
Harlow plays Hollywood superstar Lola Burns, a not-so-thinly veiled riff in her own persona (in one scene, she's called in for retakes on the Red Dust rain barrel scene, certainly one of the real-life Harlow's most famous screen moments), and Lee Tracy is pure mercenary drive as an unscrupulous publicist who actually enjoys the torment he puts her through as he manufactures scandals and breaks up romances with his con-man shenanigans. The script was reportedly inspired by the real-life ordeals of Harlow and Clara Bow and Harlow is clearly in on the gag and having fun with it, playing the public role of the big screen glamour girl while her private life is all chaos and frustration. Victor Fleming, one of the sturdiest of MGM's house directors, and a solid cast of supporting players (Frank Morgan as her fraud of a father, Una Merkel as her sassy assistant, Pat O'Brien as her exasperated director) keep the film running in top gear.