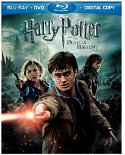 With the days shorter and the nights colder, it is now more than ever the season for movies at home. Here's what new this week.
New Releases:
"Harry Potter and the Deathly Hallows – Part 2" (Warner) brings the saga to a close with grand spectacle, yes, but also a greater sense of urgency and mortal stakes than "Part 1," in part because it's more active (none of that hiding out in the wilds stuff here) and in part because it finally brings all the conflicts to a mighty showdown. For anyone who has invested themselves in the movies, it pays off with a satisfying conclusion, because director David Yates and screenwriter Steve Kloves honor the story and the characters. There's not much extra on the DVD  but the Blu-ray is packed with supplements. Note that this arrives on Friday, November 11. Videodrone's review is here.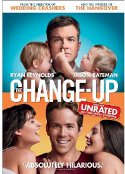 Swinging bachelor Ryan Reynolds and family man Jason Bateman swap bodies in "The Change-Up" (Universal), a comedy promoted as "from the director of "Wedding Crashers" and the writers of "The Hangover"," so you know what you're getting.
"Atlas Shrugged: Part 1" (Fox), an independently produced adaptation of the first section of Ayn Rand's novel, received some of the worst reviews of the year. "13 (2010)" (Anchor Bay), Gela Babluani's English language remake of his own 2005 European thriller, was not any more successful, despite a cast that includes Ray Winstone, Mickey Rourke and Jason Statham.
Foreign films this week include Catherine Breillat's "Sleeping Beauty" (Strand) from France and Erin Riklis' "The Human Resources Manager" (Film Movement), a low-key piece of comic drama and cultural negotiation from Israel. More on Videodrone here.
Browse the complete New Release Rack here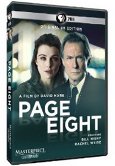 TV on DVD:
Just days after its stateside debut on "Masterpiece Contemporary" comes "Page Eight" (PBS), David Hare's low-key political thriller with Bill Nighy as a career intelligence analyst for MI-5. David Hare's first original screenplay in over a decade is John Le Carre territory by way of David Mamet, stripped down and scripted with underplayed precision. The superb cast also includes Rachel Weisz, Judy Davis, Felicity Jones, Michael Gambon and Ralph Fiennes as the Prime Minister. Videodrone's review is here.
"Doctor Who: Series Six, Part Two" (BBC) completes the strange and amazing story of River Song and brings the Doctor back to the shocking event that opened the season: the death of the Doctor. It's a trip and Videodrone tags along here. Also from across the pond is "Case Histories" (Acorn), the new British mystery series based on the novels by Kate Atkinson and starring Jason Isaacs.
"Mr. Magoo: The Television Collection" (Shout! Factory) collects over 30 hours of animated shows and TV specials from 1961-1977 in an 11-disc box set. "Band of Brothers/The Pacific Special Edition Gift Set" (HBO) pairs up the two acclaimed HBO World War II mini-series on DVD and Blu-ray. Videodrone's review is here.
Flip through the TV on DVD Channel Guide here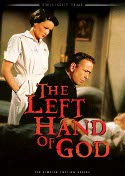 Cool, Classic and Cult:
Humphrey Bogart dons the collar in "The Left Hand of God" (Twilight Time), playing a Catholic priest in a Chinese mission in 1947. If that doesn't strike you as a Bogart role, just wait, it gets there.
"Great Directors" (Kino Lorber) presents conversations with ten of the world's great directors (from Bernardo Bertolucci and Catherine Breillat to John Sayles and Agnès Varda), and "Produce Your Own Damn Movie!" (Troma) is the third collection of DIY filmmaking tips from exploitation auteur Lloyd Kaufman and friends (from David Cronenberg to Roger Corman to The Duplass Brothers).
All of the Cool, Classic and Cult here
Blu-ray Debuts: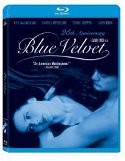 "Blue Velvet" (MGM), David Lynch's masterpiece of the rot under the picture-perfect façade of small town idealism, debuts on Blu-ray with a treasure trove of recently discovered deleted scenes. They aren't added to the film, mind you — Lynch's original version is his director's cut, no compromises made — but they are included as a supplement and offer more textures and possibilities for fans to explore. Videodrone's review is here and you can see an exclusive deleted clip here.
"Fanny and Alexander Box Set" (Criterion) includes both the Oscar-winning theatrical version of Ingmar Bergman's most autobiographical film and the longer mini-series version he created for Swedish television, as well as two documentaries and a 1984 interview with the director.
Dustin Hoffman is "Little Big Man" (Paramount) in the satirical western, Marlon Brando stars in the 1962 "Mutiny on the Bounty," Gus Van Sant directs Nicole Kidman to one of her best performances in "To Die For" (Image) and Terry Gilliam directs Jeff Bridges in "The Fisher King" (Image). On the cult front is William Wyler's "The Collector" (Image) with Terence Stamp and the tongue-in-cheek horror comedy "Frankenhooker" (Synapse).
Peruse all the new Blu-rays here
Continue reading at Videodrone.
For Coming Attractions and more reviews, visit Videodrone, MSN's DVD, Blu-ray and home viewing column.