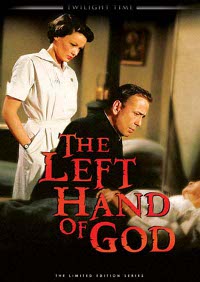 Humphrey Bogart dons the collar in The Left Hand of God (Twilight Time), a 1955 drama set in 1947 China. He enters the film riding a mule to a remote Catholic missionary caught between the local warlord and the brewing revolution and proceeds to win the hearts and minds of the villagers with his savvy understanding of their culture and his ability to switch from English sermon to Chinese conversation. There's more than meets the eye to Father O'Shea, as is clear in his queries about the local trade caravans and the handgun he keeps handy, but I don't want to give too much away. Suffice it to say that Father O'Shea had another, quite worldly life before putting on the collar and trekking into rural China, as did nurse Anne 'Scotty' Scott (Gene Tierney), who apparently arrived in the middle of nowhere with a wardrobe worthy of a New York socialite.
Edward Dmytryk directs this mix of Asian exotica, Catholic piety and Hollywood style with anonymous professionalism, his specialty since he returned from his blacklist exile, named names and took his place in the studio machine. The cast carries the supermarket bestseller story — E.G. Marshall as the anxious and outspoken American doctor, Agnes Moorehead as his frank wife and steely partner in missionary life, Lee J. Cobb as the Chinese warlord with the manner of a New York mob boss, and especially Bogart as the weather-beaten realist in vestments. We're in the same territory as as the original "Magnificent Obsession" and "The Keys of the Kingdom" a decade later, in the wake of a world war and the cold war, but Dmytryk is just going through the motions of moral conflict and hard decisions, unwilling to commit to Bogart's trials and unable to understand Tierney's torment as she falls for a man of God while waiting for her missing-and-presumed​-dead husband. It's a handsome widescreen film with solid performances (extra credit goes to Moorehead's mix of moral commitment and practical realism) and compelling performers, but it never rises above the reductive melodrama of the plot.
Like all of the Twilight Time releases, it features an isolated audio track with Victor Young's score and a leaflet with notes by Julie Kirgo.
Continue for more classic and alternative releases this week, including a new edition of the 1951 'A Christmas Carol' and the documentary 'Great Directors,' at Videodrone.