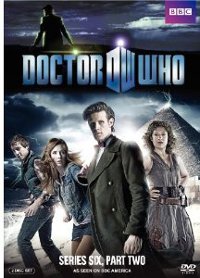 Doctor Who: Series Six, Part Two (BBC) completes the strange and amazing story of River Song (Alex Kingston), whose identity and past is finally revealed at the close of "Series Six, Part One," and brings the Doctor back to the shocking event that opened the season: the death of the Doctor. In the American desert, no less.
The series has been, episodic hiccups aside, uniformly good ever since the reboot with Christopher Eccleston in 2005, but it has been especially clever and playfully plotted since Steven Moffat took over as producer and the Doctor was reborn in the form of Matt Smith and his cartoonish presence in Season Five. The second half of the sixth season opens with The Doctor and his companions, Amy and Rory (Karen Gillan and Arthur Darvill), colliding with Hitler. It's not quite as epic as the opening episodes, though they have their role to play in this storyline, and it delivers the usual mix of monsters, aliens and time-travel complications.
And it gets a little serious too, not something we're used to with Smith's rubbery Doctor, a guy who bounces all over the screen and the scripts with childlike enthusiasm. Because even the Doctor can't outrun his destiny. But that doesn't mean he hasn't got something up his sleeve. Oh yeah, there's a wedding too, and you'll never guess whose.