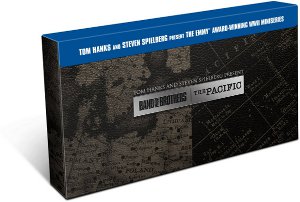 In lieu of a traditional gift guide this season, I'll be spotlighting deluxe editions and special releases as they roll out through the holiday gift season. We begin with…
Band of Brothers/The Pacific Special Edition Gift Set (HBO) pairs up the two acclaimed HBO World War II mini-series on DVD and Blu-ray.
After "Saving Private Ryan" in a single mission, Steven Spielberg and Tom Hanks teamed up to produce a chronicle of the European theater of WWII from a soldier's eye view on a vast canvas. The resulting ten-hour 2001 mini-series Band of Brothers won six Emmy Awards (out of 19 nominations) and is, simply put, one of the most powerful and entrancing portraits of men in war ever put on screen. Shot in same khaki and gray tones and combat staccato flicker of "Ryan," as if viewed through the adrenaline-enhanced fear and hyper-alert eyes of a soldier under fire, it captures the texture of battle, the dynamics of platoon life, the wear of fatigue and experience, and the sudden bursts that break a lull, like a lightning attack or a deadly volley of bombs.