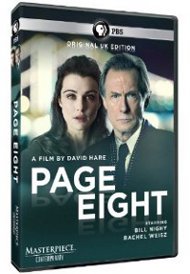 "Page Eight" (BBC), David Hare's low-key political thriller, arrives on DVD and Blu-ray just days after its stateside debut on "Masterpiece Contemporary."
Hare's first original screenplay in over a decade takes us into John Le Carre territory by way of David Mamet, the world of intelligence agents as civil servants in a jungle of bureaucratic gamesmanship. It's not the spy game here, it's a matter of accountability, but information is power and career MI-5 intelligence analyst Johnny Worricker (Bill Nighy) is handed some pretty combustible intelligence by his boss and best friend (Michael Gambon), a sort of parting gift from a man who knows he's not long for the service.
It's not the mystery — which has something to do with "the special relationship" and the disadvantages on the British side of it — that matters, it's the characters and the gamesmanship. In place of Le Carre's sprawling networks of alliances and betrayals and long histories of double agent dealing, Hare gives is a miniature, stripped down and scripted with underplayed precision. Bill Nighy, a master of dry wit and the uncanny ability to see every situation with a hint of bemusement, plays Johnny as the very model of "mild mannered," but it is a manner. He's smart, crafty and naturally suspicious, and the combination has cost him a couple of marriages and very nearly his estranged daughter (Felicity Jones).
The superb cast also includes Rachel Weisz as his attractive next door neighbor (whose sudden interest in him raises flags of suspicion), Judy Davis as his very competitive colleague and Ralph Fiennes as the Prime Minister, plus Saskia Reeves, Ewen Bremner and Marthe Keller. Quite a lot of stature here and they bring the understated (and somewhat glib) plot to life.