Videodrone celebrates Halloween with a survey of horrors newly released on the manufacture-on-deman​d format.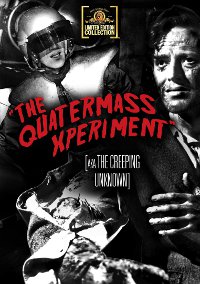 The Quatermass Xperiment (MGM Limited), renamed "The Creeping Unknown" in the U.S., is something of a landmark. Adapted from a live television serial by Nigel Kneale, the film is the very first "Quatermass" feature, the most ambitious British science fiction film since "Things to Come" and the film that put Hammer Films on the genre map. The story and science fiction concept is sophisticated, even if the screenplay adaptation (co-written by director Val Guest) resorts to the bluster of scientific arrogance, while the atmosphere is space-age horror with a Gothic look, thanks to the city of London and Guest's shadowy night shooting.
Hammer imported Brian Donlevy to have an American star in the lead and he is the weakest element of the film, playing Professor Bernard Quatermass not as an inquisitive intellectual but an arrogant, authoritarian scientist. His brusque attitude is simply to stonewall the cops after the first manned spaceflight out of Earth's atmosphere returns with two astronauts inexplicably missing and the third in shock with a fungus-like growth on his arm. Which makes him very "American" in a British culture of understatement and almost ritualized politeness. In his way, Donlevy does provide the film's engine, but without much dimension to what should be the voice of reason over fear and superstition. Meanwhile Richard Wordsworth is haunting as the tormented survivor, gaunt and silent, looking on with hollow eyes as undergoes a transformation he doesn't understand, and the creature that emerges is, for the time, something new in the monster pantheon: a completely alien life-form poised to send its seeds across the city. Pitting the final battle between human science and alien morphology in Westminster Abbey is more than just atmospherics: mankind makes its stand in a temple of longevity and mystery. The image is strong. B&W and Academy Ratio (1.33:1), with black bars on the side of image to preserve the squarish aspect ratio on widescreen sets.
More on Black Zoo, Night Watch, The Phantom of Hollywood and more at Videodrone.