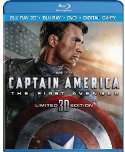 New Releases:
"Captain America: The First Avenger" (Paramount) is, as the title hints, something of a prologue to the upcoming superhero extravaganza "The Avenger," but it's also an old-fashioned piece of two-fisted comic-book heroism with a patina of nostalgia and World War II patriotism. And the film owes all due credit to Chris Evans, who brings a convincing mix of pluck, modesty and duty to the role, embodying an icon without turning it into parody. While not the best superhero movie in the recent cycle of big-screen comic books, it's far from the worst and at times endearing in its sense of honor, decency and responsibility. Available on DVD, Blu-ray and Blu-ray 3D. Videodrone's review is here.
"Winnie the Pooh" (Disney) is the new animated feature starring the silly old bear of A.A. Milne's children's stories, and Disney's first hand-drawn animated feature in some time.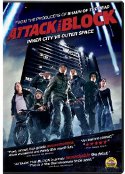 The lead-up to Halloween also brings a few choice titles out for the season, the most choice being "Attack the Block" (Sony), a British invasion-in-the-hood​ thriller with both a palpable social subtext and a great B-movie energy. And from Finland comes the twisted Santa Claus tale "Rare Exports: A Christmas Tale" (Oscilloscope). Videodrone reviews them here.
Kevin Spacey is "Father of Invention" (Anchor Bay), an inventor and TV pitchman on hard times, Jenna Fischer needs "A Little Help" (Image) in this comedy and "The People Vs. George Lucas" (Lionsgate) explores the complicated relationship between "Star Wars" fans and the film's creator.
From China comes "City of Life and Death" (Kino Lorber), an epic recreation of the Rape of Nanking in 1937, plus the costume action thriller "Shaolin" (Well Go) with Andy Lau, both on DVD and Blu-ray. "Fire of Conscience" (Vivendi) is a contemporary Hong Kong crime thriller.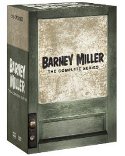 Browse the complete New Release Rack here
TV on DVD:
"Barney Miller: The Complete Series" (Shout! Factory) collects all eight seasons of the iconic seventies sitcom — 168 episodes altogether — plus complete half-season of the spin-off "Fish" in a hefty 25-disc box set. Set entirely in the precinct house, it's still considered the most realistic portrayal of cops on television by real-life law officers. The set is also packed with supplements: commentary tracks, cast interviews and the original pilot. Videodrone's review is here.
The Emmy-winning 1977 holiday drama "The Gathering" (Warner) stars Edward Asner and Maureen Stapleton.
With the new feature film set for release, the original 1980 British TV mini-series "Tinker, Tailor, Solider, Spy" (Acorn), starring Sir Alec Guinness is George Smiley, is back out on DVD. More from Videodrone here. Also from Britain comes "Luther 2" (BBC), the second round of the dark Idris Elba crime series, plus "Justice" (BFS) with Robert Pugh and "A Passionate Woman" (BFS), a romantic drama with Billie Piper.
"Nazi Hunters" (MVD) is an award-winning Canadian nonfiction series about the missions to hunt down some of the most wanted men in the 20th Century. Also new: "Thunder Cats: Season One, Book One" (Warner) with the first episodes of the new incarnation of the animated series, and "Robot Chicken: Season 5" (Warner) from the Cartoon Network.
Flip through the TV on DVD Channel Guide here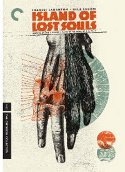 Cool, Classic and Cult:
"Are we not men?" That's the question at the heart of "Island of Lost Souls" (Criterion), the first adaptation of the H.G. Wells novel starring Charles Laughton as a heartless scientist who plays God in his jungle laboratory. Though not as famous as the original "Frankenstein" and "Dracula," this early-thirties horror is one of the greats and makes its long-awaited debut on DVD and Blu-ray. Just in time for Halloween. Videodrone's review is here.
And speaking of horror, two Lucio Fulci films arrive this week in new editions for DVD and Blu-ray: "Zombie: 2-Disc Ultimate Edition" (Blue Underground) and "House By the Cemetery" (Blue Underground) both add new supplements to newly-remastered editions of the grotesque Italian horrors. More from Videodrone here.
"Laurel and Hardy: The Essential Collection" (Vivendi) is an impressive ten-disc set featuring newly-remastered editions of ten features and dozens of shorts from their Hal Roach period, from their first sound short to "A Chump at Oxford" and "Saps at Sea" in 1940. A whole disc of supplements plus alternate versions of some shorts and feature films. "Nine Nation Animation" (New Yorker) showcases new animated shorts from around the world.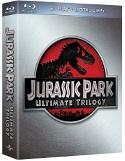 All of the Cool, Classic and Cult here
Blu-ray Debuts:
"Jurassic Park: Ultimate Trilogy" (Universal) brings all three of Steven Spielberg's dinosaur adventures to Blu-ray in box set filled with old and new supplements. And, of course, lots of prehistoric predators. Videodrone's review is here.
"Dazed and Confused" (Criterion), the "American Graffiti" for the other end of the baby boom generation, gets its Criterion Blu-ray release mere months after its Universal Blu-ray release. Needless to say, the supplements are impressive. Francis Ford Coppola's "The Conversation" (Lionsgate) debuts on Blu with new supplements and "Tom and Jerry: Golden Collection, Volume One" (Warner) presents 37 classic cartoons remastered for DVD and Blu-ray.
Peruse all the new Blu-rays here
For Coming Attractions and more reviews, visit Videodrone, MSN's DVD, Blu-ray and home viewing column.