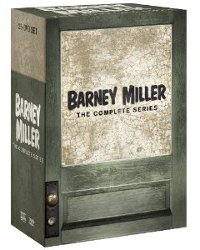 Barney Miller: The Complete Series (Shout! Factory) collects all eight seasons of the iconic seventies sitcom. Set entirely in the precinct house, it's still considered the most realistic portrayal of cops on television by real-life law officers. "A cop show for the ages," wrote LAPD Detective Sergeant turned bestselling author Joseph Wambaugh. "The always human characters in that squad room reflect the attitudes and opinions recognizable by anyone who ever carried a badge and used humor as a powerful defensive weapon."
Precinct Police Captain Hal Linden plays straight man to his eccentric detective squad room in the great 1970s sitcom: Fish (Abe Vigoda), the glum, sad faced cynic with a sardonic comment for every occasion, Wojo (Max Gail), the gullible gung-ho Pole, Amanguale (Gregory Sierra), the Puerto Rican jokester, the impeccably dressed Harris (Ron Glass), always outspoken, and sleepy eyed Yemena (Jack Soo), whose dry delivery is unmatched in TV sitcoms. The roll call changed over the seasons — Linda Lavin was the sole woman in the bullpen on and off during the first two seasons, Sierra left after the second season, Vigoda retired at the beginning of season four and Soo unexpectedly passed away after five seasons. And the talented Barbara Barrie, who played Barney's wife in the first season (where the show briefly included scenes in the Miller apartment), was phased out to focus exclusively on the workplace environment. That the upshot was giving Barney a divorce only solidified the case for the show: it may be a comedy, but that doesn't mean these guys don't face the same stresses of their cop drama brethren. It was simply part of the background.
Stepping in were Steve Landesberg as low-key intellectual Arthur Dietrich, whose unruffled delivery and penchant for tossing trivia into conversations adds a whole new flavor to the chemistry, plus regular visits to the detective room by Officer Levitt (Ron Carey) and Inspector James Gregory's lonely, garrulous Inspector Luger, a veteran who apparently didn't actually have any cases of his own to work. He just liked to be one of the guys.
Continue reading at Videodrone, which also has an interview clip with Hal Linden and Max Gail