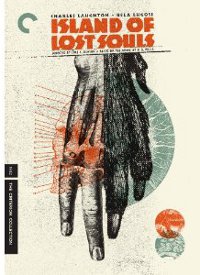 Dr. Moreau: What is the law?
Sayer of the Law: Not to spill blood, that is the law. Are we not men?
"Are we not men?" That question is at the heart of the 1932 Island of Lost Souls (Criterion), the first adaptation of the H.G. Wells novel and (for all the changes from the novel) still the defining one. It's also been the hardest to see. Though it was released on VHS and on laserdisc, it rarely showed on TV or cable and its arrival on DVD comes decades after the classic horrors of the thirties — "Frankenstein," "Dracula," "Freaks," "The Mummy," "The Black Cat" and so on — have been released. As a result it's more known about than seen, more often a footnote in conversations about the early days of horror, when in fact it's one of the most transgressive films of its era.
Charles Laughton enters the film as Dr. Moreau in the white linen suit of a plantation owner or a southern slaver. Once he cracks his ever-present whip to send the "natives" scurrying in fear, the resemblance is sealed, but that's just the beginning of his brutal identity.
"Do you know what it means to feel like God?" he boasts, but he's more a demon in the devil's workshop transforming beasts into human-like creatures. Whether they are men is an open question, but they certainly aspire to manhood in their creation of community and adherence to laws. Whether Dr. Moreau, a vivisectionist who seems to enjoy the pain he inflicts, has sacrificed his humanity is more to the point.