Fritz Lang arrived in Hollywood as an artist in exile and, as the creator of some of Germany's most famous and most successful films, accorded all due respect. Unlike a lot of artist refugees from Hitler's Germany, he was offered prestige assignments, "important" subjects and major stars. At least at first. Without major hits or awards to his credit, and with a reputation for autocratic methods (there's nothing a studio hates more than a "difficult" director), he very slowly slipped down the ladder into smaller budgets and increasingly turned to independent productions.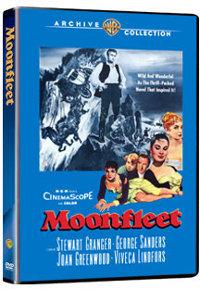 Fritz Lang's final three American productions were released through the Warner Archive Collection this year. And while they never reach the heights of his greatest American films—You Only Live Once (1937), Man Hunt (1941), Scarlet Street (1945), The Big Heat (1953)—they have their pleasures and rewards.
Moonfleet (1955) was Lang's last film for one of the Hollywood majors. The budget-minded MGM production set in 18th century England, it's like "Great Expectations" by way of a gothic film noir, in this case a world of smugglers, knaves and decadent, corrupt gentry  on the rocky, foggy British coast. Jon Whitely is the film's answer to Pip, a plucky young orphan sent to live with the dark criminal aristocrat Jeremy Fox (Stewart Granger), a brigand with money and status torn between his mercenary instincts and his growing sense of responsibility for the innocent and unfailingly loyal boy, the son of the woman he loved and in many ways the symbol of the road not taken.
Lang shot in CinemaScope entirely in the studio and still creates a claustrophobic world of craggy moors and bleak architecture. Even the stony church is a bleak sanctuary where cold statues seem to judge, if not outright threaten, the parishioners. Visually it anticipates the look of the Hammer Gothic horrors and Corman's Poe films, with its studio moors and gloomy sets of stone gray and rough wood and costumes of royal purple and soldier crimson, all shrouded in fog and mist like a perpetual purgatory. Granger delivers a perfectly sardonic and arrogant performance while George Sanders purrs pure aristocratic decadence and moral bankruptcy, relishing his easy corruption with wry looks and cheerfully greedy behavior. "You're cheating," accuses one man at a card game. He fixes a weary smirk and replies: "Even if I were, I'd consider it grossly impolite to say so in my own house." Sure, there's a redemption in the offing, but the brigands are a lot more fun.
After this low-end studio assignment, Lang ended his Hollywood career at RKO, once a major studio slowly withering under the capricious command of Howard Hughes, working with falling stars and budget-starved productions in black and white that he did his best to turn into an asset.
Continue reading about While the City Sleeps, Beyond a Reasonable Doubt and Jacques Tourneur's The Fearmakers at Videodrone