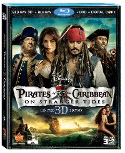 New Releases:
"Pirates of the Caribbean: On Stranger Tides" (Disney) dredges up the waterlogged adventure franchise for yet another big-budget spectacle that equates furious action and visual momentum for plot and story. Only Johnny Depp keeps this foundering film afloat, but it was a box-office hit and there's at least one more in the offing. Arrives on DVD, Blu-ray and Blu-ray 3D editions, as well as digital download. Videodrone's review is here.
Cameron Diaz makes for a really "Bad Teacher" (Sony), which MSN critic Glenn Kenny praises as a "refreshingly raucous comedy." Selena Gomez gets the royal treatment in the tweener romantic fantasy "Monte Carlo" (Fox), with Leighton Meester.
Chris Weitz takes  a stab at exploring the American Dream in "A Better Life" (Summit) while "Red State" (Lionsgate), a horror film billed as "an unlikely film from *that* Kevin Smith," makes the culture wars literal.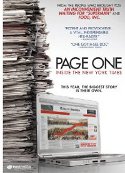 "Page One: Inside the New York Times" (Magnolia), the acclaimed documentary made with unprecedented access in the fabled newsroom, is the top pick for a solid week of non-fiction films. Among the other titles are "The Shock Doctrine" (Kim Stim/Zeitgeist), Michael Winterbottom's film of the Naomi Kline book, and "Beats Rhymes and Life: The Travels of a Tribe Called Quest" (Sony). The True Stories round-up is here.
And it's another hefty week for cinema imports. "Aftershock" (China Lion), currently China's all-time biggest blockbuster, spins a family melodrama through two devastating earthquakes. Alex de la Iglesias' "The Last Circus" (Magnet) combines horror and satire to measure Franco's legacy in Spain, plus there's "The Robber" (Kino Lorber) from Austria, "The Names of Love" (Music Box) from France, and Giuseppe Tornatore's "Baaria" (Image) from Italy. Complete Foreign Affairs round-up is here.
Browse the complete New Release Rack here

TV on DVD:
"V: The Complete Second Season" (Warner) brings the 21st century reboot of the eighties invasion series to with an abbreviated ten-episode season and conspiracy just beginning, but the spectacle is sure impressive. Videodrone's review is here.
"The Rise and Fall of Margaret Thatcher" (BBC) offers a portrait of the Prime Minister through three BBC productions made between 2002 and 2009, with Thatcher played by three different actresses: Andrea Riseborough, Patricia Hodge and Lindsay Duncan.
"Gigolos: The First Season" (CBS) is just one of the many cable reality shows this week. Poppy Montgomery is the former schoolteacher turned pop-culture wizard in the new TV movie "Magic Beyond Words: The J.K. Rowling Story" (Lifetime).
For animation fans there's the debut of the Nickelodeon series "CatDog: Season One, Part One" (Shout! Factory), "Star Wars – The Clone Wars: The Complete Season Three" (Warner) and a new edition of "Robotech: The Complete Series" (A&E).
The TV gift sets are starting to roll out with new editions of "Little House on the Prairie: The Complete 9 Season Set" (Lionsgate) and "America: The Story of Us – Collector's Edition" (History), which comes with book.
Flip through the TV on DVD Channel Guide here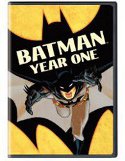 Cool, Classic and Cult:
"Batman: Year One" (Warner), based on the Frank Miller-scripted graphic novel about the early years of Batman and Jim Gordon (before he was Commissioner) in the cesspool of a corrupt Gotham City, is to date the best of the DC Universe Original Animated features. A must for Batman and graphic novel fans, and it features a bonus "Catwoman" short. Videodrone's review is here.
Kaneto Shindo's "Kuroneko" (Criterion), one of the great ghost stories of Japanese cinema, debuts on DVD and Blu-ray, while "Aki Kaurismäki's Leningrad Cowboys: Eclipse Series 29" (Criterion) boxes up two crazy comedies, one concert film and a collection of music videos from this amazing collaboration. Videodrone's review is here.
"You Got to Move: Stories of Change in the South" (Milestone), the 1985 documentary of grass roots activism in the south, is restored for a DVD debut. More on this and the pop culture documentaries "The Captains" (eOne), and "More Brains! A Return to the Living Dead" (CAV) at Videodrone here.
"Trancers: The Ultimate Deth Collection" (Flatiron) features all five films in the early direct-to-video sci-fi crime franchise and "Captain America (1979) / Captain America II: Death Too Soon" (Shout! Factory) is a TV-movie double feature with Reb Brown as a poor substitute for the patriotic hero.
All of the Cool, Classic and Cult here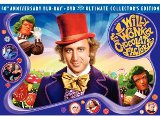 Blu-ray Debuts:
"Willy Wonka and the Chocolate Factory: 40th Anniversary Blu-ray+DVD Ultimate Collector's Edition" (Warner) is quite the deluxe edition of the fantasy classic. Some of the extras are silly little gewgaws but there is also a bonus disc of all-new supplements and an accompanying book (not a booklet but a full-sized production) by the director. And, of course, the movie on DVD and Blu-ray. That's the real golden ticket. Videodrone's review is here.
"The Crow" (Lionsgate), a perennial cult favorite among the dark comic-book movies, arrives on Blu-ray. Also debuting this week: the muscular World War II mission thriller "The Guns of Navarone" (Sony) with Gregory Peck, Martin Scorsese's remake of "Cape Fear (1991)" (Universal) with Nick Nolte and Robert DeNiro and Federico Fellini's "I Clowns" (Raro Video), he first American Blu-ray release from Italy's Raro Video.
Peruse all the new Blu-rays here
For Coming Attractions and more reviews, visit Videodrone, MSN's DVD, Blu-ray and home viewing column.