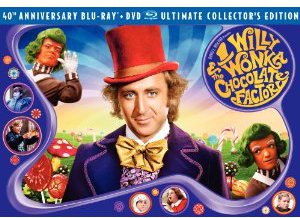 Willy Wonka and the Chocolate Factory: 40th Anniversary Blu-ray+DVD Ultimate Collector's Edition (Warner)
Recently, while visiting with friends one night, the adults decided to put on a DVD to keep the kids entertained while we visited. Willy Wonka and the Chocolate Factory started up and within minutes we realized out mistake, but it was too late. We were just as caught up in the film as the kids were.
Because Willy Wonka and the Chocolate Factory is that rare breed: an imaginative live-action kid's film that engages and delights adults. For all the wonder of a film, with its bouncy, silly songs, art design in candy colors, and mix of innocence and strangeness, there is also an edge to Gene Wilder's simultaneously weird and warm eccentricities, like a mix of storybook fantasy and Grimm Fairy tale updated to the industrial world of the twentieth century. The pure imagination of the world inside the factory is an escape from the dreary reality of soot-covered town, and by extension the taste of a Wonka bar is a little piece of paradise.
Tim Burton and Johnny Depp have tried their hand at adapting Roald Dahl's classic fantasy but even Burton's madcap imagination can't match the perfect balance that director Mel Stuart (a major documentarian of the sixties and seventies) and Dahl (who adapts his own book) bring to the production, and Depp fails to bring the mix of mystery and magic and dark and light of Wilder's knowing incarnation.
Continue reading on Videodrone and see an exclusive clip from the supplements