New Releases:
There is no denying the ambition of "The Tree of Life" (Fox), Terrence Malick's portrait of one boy's education growing up in Texas set against nothing less than the origins of life in the universe. It has amazed, confounded and frustrated audiences, but the experience is like no other American film I've seen in recent history. Videodrone's review is here and interview with star Jessica Chastain here.
"Green Lantern" (Warner), the big screen debut of the DC Comics superhero starring Ryan Reynolds as the mere human given the power of an alien ring, underwhelmed its fan base. Warner, however, is pulling out all stops for the Blu-ray release, offering an extended cut of the film, an interactive viewing mode and, of course, all sorts of featurettes and supplements. And there is a Blu-ray 3D version as well. All editions come out on Friday, October 14. More from Videodrone here.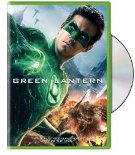 Steve Coogan and Rob Brydon are traveling companions on "The Trip" (IFC) to the finest restaurants in Britain, where they spend time in comic one-upmanship (their dueling Michael Caine impressions is worth the price of a rental).
Jason Bateman, Charlie Day and Jason Sudeikis plot revenge against their "Horrible Bosses" (Warner) Jennifer Aniston, Colin Farrell and Kevin Spacey in the black comedy. John C. Reilly is an eccentric high school vice-principal in "Terri" (Fox), an indie comedy with Sundance credentials, Rhys Ifans plays "Mr. Nice" (MPI), based on the crazed true story of a wildly successful British marijuana smuggler, and "Beautiful Boy" (Anchor Bay) stars Maria Bello and Michael Sheen as separated parents who turn to each other in shared grief.
And for the more juvenile crowd, there is "Zookeeper" (Sony) with Kevin James and talking animals, and "Judy Moody and the Not Bummer Summer" (Fox) from the children's book by Megan McDonald.
Browse the complete New Release Rack here

TV on DVD:
As the tongue-in-cheek spy show embarks on its fifth and final season, "Chuck: The Complete Fourth Season" (Warner) catches you up with the adventures of amiable nerd turned super-spy Chuck Bartowski (Zachary Levi), who spends the season looking for his mother (guest star Linda Hamilton), who also happens to be a spy and may be working for the other side. Oh, and there's a birth and a wedding. Mission debriefing from Videodrone here.
And while "Bones" has no end in sight, the upcoming season will be truncated due to pregnancy, so the full-sized "Bones: The Complete Sixth Season" (Fox) will have to fill the void for those of us who love the show, bones and all. Videodrone examines the remains here.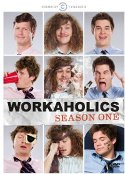 "Workaholics: Season One" (Paramount) arrives as the second season of the new Comedy Central sitcom is underway and "Aqua Unit Patrol Squad 1: Season 1" (Warner) is the is actually the new incarnation of the Cartoon Network's Adult Swim hit "Aqua Teen Hunger Force," renamed but as weird as ever.
From Britain comes the dark comedy "Snuff Box" (Severin), part sitcom and part sketch comedy, and "Without Motive" (Acorn), the complete 12-episode series about the search for a serial killer in Bristol. "Casper The Friendly Ghost: The Complete Collection 1945-1963" (Shout! Factory) and "JEM and The Holograms: The Truly Outrageous Complete Series!" (Shout! Factory) are collections of animated programs of yesteryear.
Flip through the TV on DVD Channel Guide here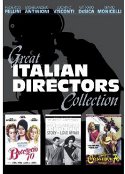 Cool, Classic and Cult:
"Great Italian Director's Collection" (Lorber Films) features Michelangelo Antonioni's debut feature "Story of a Love Affair" (1950), the anthology film "Boccaccio '70" (1962) with contributions by Federico Fellini, Luchino Visconti, Vittoria De Sica and Mario Monicelli, and Monicelli's "Casanova '70" (1966). Not necessarily major films but certainly major directors and new editions of films either long out of print or never available on DVD in the U.S.. Videodrone's review of both DVD and Blu-ray editions here.
"The Four Feathers" (Criterion) gives the Criterion treatment to Zoltan Korda's 1939 Technicolor adventure of British imperial heroism and stiff-upper-lip loyalty. Quite the outdated Hail Britannia piece but a beautifully shot film with a rousing score. The 1966 remake of "Stagecoach" (Twilight Time) can't help but fall in the shadow of John Ford's original masterpiece, but it has a cast that keeps the wheels rolling (including Ann-Margaret, Red Buttons, Bing Crosby and Slim Pickens), while "South of Heaven" (Synapse) offer a more contemporary western by way of blood-soaked revenge thriller.
"I'm a Cyborg, But That's OK" (Pathfinder) is an offbeat character piece by South Korean auteur Pak Chan-wook (of "Oldboy" fame) and foreign terrors come from "The Child's Eye" (Lionsgate), a Hong Kong production from The Pang Brothers, and "The Sylvian Experiments" (Lionsgate) from Japanese screenwriter turned director Hiroshi Takahashi.
All of the Cool, Classic and Cult here

Blu-ray Debuts:
Criterion offers Blu-ray upgrades of two previous DVD releases: Masaki Kobayashi's samurai drama "Harakiri" (Criterion), a classic tale of samurai ideals versus political hypocrisy, and Pier Paolo Pasolini's "Salò, or the 120 Days of Sodom" (Criterion), his notorious adaptation of the Marquis de Sade's opus of torture and degradation relocated to 1944 Fascist Italy.
"Boccaccio '70" (Lorber Films) and "Casanova '70" (Lorber Films) arrive on Blu-ray in separate editions but, like the DVD box set above, with no supplements of any substance. "Scrooge" (Paramount) is the 1970 musical incarnation of "A Christmas Carol" with Albert Finney and "Last Exit to Brooklyn" (Summit) is Uli Edel's adaptation of Hubert Selby Jr.'s cult novel.
The countdown to Halloween brings Blu-ray debuts of "The Bad Seed" (Warner), the psycho-child classic starring Patty McCormack as a well-mannered little psychopath, plus minor cult items "Maniac Cop" (Synapse), with Bruce Campbell, and "Dark Night of the Scarecrow" (VCI).
Peruse all the new Blu-rays here
For Coming Attractions and more reviews, visit Videodrone, MSN's DVD, Blu-ray and home viewing column.