There is no denying the ambition of The Tree of Life (Fox), Terrence Malick's portrait of one boy's education growing up in Texas set against nothing less than the origins of life in the universe.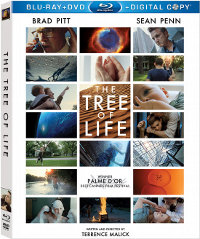 That's not an exaggeration. Ostensibly the story of one man recalling his childhood, growing up with two brothers, a mother (Jessica Chastain) with the maternal glow of the Madonna and a father (Brad Pitt) whose loving protectiveness is complicated by a bullying authoritarian streak that is unleashed by the coiled rage under his skin, the film is filled with privileged moments of magic and terror, of remembered shards of treasured memories turned idealized snapshot and moments that are more textured evocations of emotions and anxieties. And then Malick rewinds to the beginning, and I mean that in the cosmic sense: the big bang, the formation of suns and planets, the primordial states of the Earth, the rise of the dinosaurs and the predatory cycle of life that, Malick suggests, still grounds the DNA of the human animal.
That threw off some viewers who went to see the new the Brad Pitt film at the multiplex and ended up watching an impressionistic journey of cosmic dimensions and personal moments of grace, terror and the human condition. Some patrons demanded their money back, prompting one theater to post a disclaimer explaining that the film is "a uniquely visionary and deeply philosophical film" and "does not follow a traditional linear narrative approach of storytelling." Some critics dismissed the film as pretentious, "arty" or boring.
That's their right and I too have my issues with the way the Malick's impressionist portraits reduce the characters to collections of symbolic representations. Yet I am also moved by the impressions of maternal grace and paternal fear, the instinctive savagery of adolescence coming out in wilding play, the sheer wonder and scale of his primordial imagery, and the symphony he creates of his images and moments and movements. The experience of the film is like no other American film I've seen in recent history.