Chuck, the tongue-in-cheek spy show about an amiable nerd turned into super-spy, is heading into its fifth and final season on TV. Consider Chuck: The Complete Fourth Season (Warner) your chance to catch up with everyman super-spy Chuck Bartowski, implanted with a program called The Intersect, who begins the season retired from the spy game.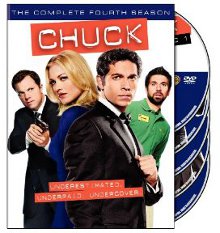 Right, like that's going to last, especially when he discovers his mother (Linda Hamilton) is in the hands of the enemy and the old Buy More store has been rebuilt as a high-tech CIA/NSA cover, and they want Chuck back in circulation. So while his sister has a baby, his mother plays double agent and he spends half the season planning the perfect proposal to his partner and paramour Sarah (Yvonne Strahovski), Chuck remains busy taking out enemy agents, in particular this season's token international criminal mastermind Alexei Volkoff (a perfectly droll Timothy Dalton).
Actually, one of the show's attractions is its fun casting and this season gets Richard Chamberlain and genre figures Dolph Lundgren, Lou Ferrigno, Steve Austin, Robert Englund and Summer Glau, not to mention Harry Dean Stanton as a repo man in the season debut. And just as fun is "Chuck Versus the C.A.T. Squad," which opens as a parody of "Charlie's Angels" as a cheesy cable action show. And it all ends with a wedding, which goes just as smoothly as you would expect in a show where Chuck discovers an international criminal every time he blinks.