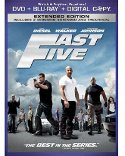 New Releases:
"Fast Five" (Universal) takes the fast cars and speed-demon criminals to Rio, where they take on a drug lord and a cool $100 million. It's a cast reunion featuring co-conspirators from all four previous installments and Dwayne "The Rock" Johnson, who signs on as their new nemesis: a humorless American agent with a brawny presence that makes him a veritable double for Vin Diesel, minus the street-smart grin. Videodrone's review is here.
"Scream 4" (Anchor Bay) reunites director Wes Craven and screenwriter Kevin Williamson for a revival of the self-aware horror franchise. Videodrone's review is here. "Submarine" (Anchor Bay) is a British indie coming-of-age drama.
And a big week for non-fiction cinema: "African Cats" (Disney) is Disney's natural history documentary, the acclaimed "Buck" (IFC) profiles the real-life man who inspired "The Horse Whisperer, and "Jig" (Screen Media), a look into the little known world of competitive Irish Dancing.
Browse the complete New Release Rack here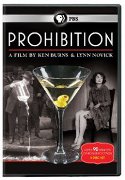 TV on DVD:
Just a day after concluding its three-night run on PBS, Ken Burns' "Prohibition" (PBS/Paramount) arrives on DVD and Blu-ray. Though not one of the director's epics, it explores a misunderstood period of American history and discovers remarkable parallels to contemporary politics. Videodrone's review is here, and I interview Ken Burns here.
"Moby Dick" (Vivendi), the new made-for-cable mini-series, stars William Hurt, Donald Sutherland, Ethan Hawke and Gillian Anderson.
New deluxe editions are now out for "The Walking Dead: Special Edition" (Anchor Bay) and "Planet Earth: Six Disc Special Edition" (BBC), on both DVD and Blu-ray (reviewed here), and "The Honeymooners Lost Episodes: The Complete Restored Series" (MPI) in an exhaustive 15-discs DVD box set.
"In Treatment: The Complete Third Season" (HBO) brings the high-concept HBO drama serial to an end, and there are new collections of "Bored to Death: The Complete Second Season" (HBO), "Melissa & Joey: Season One, Part Two" (Shout! Factory) and, in anticipation of the revival of MTV's signature animated series, "Beavis And Butt-Head: Mike Judge's Most Wanted" (Paramount).
Flip through the TV on DVD Channel Guide here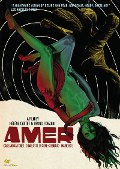 Cool, Classic and Cult:
"Amer" (Olive), a Belgian mindtrip from directors Hélène Cattet and Bruno Forzani,  pays tribute to the giallo, a deliriously stylish brand of Italian horror, with a subjective psychosexual trip that defies explanation but is a glorious experience nevertheless (or perhaps because of it). Videdrone's review is here.
"Friday the 13th: The Ultimate Collection" (Paramount) boxes up the eight films of the original slasher series in a Limited Edition box with a replica of Jason's hockey mask, and "Alfred Hitchcock: The Essentials Collection" (Universal) collects five Hitchcock masterpieces of the fifties and sixties in a digipack packed with supplements (all previously available in earlier releases).
And from the stage (via cable specials) comes "The Pee-Wee Herman Show On Broadway" (Image) and "Bette Midler: The Showgirl Must Go On" (Image).
All of the Cool, Classic and Cult here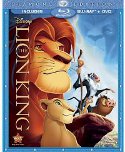 Blu-ray Debuts:
"The Lion King / The Lion King 3D" (Disney) comes off a successful theatrical 3D revival and on to Blu-ray, in both the original theatrical version and the new 3D incarnation.
Quentin Tarantino's "Pulp Fiction" (Lionsgate) and "Jackie Brown" (Lionsgate) debut on Blu-ray (reviewed here), as do Tim Burton's "Pee-wee's Big Adventure" (Warner) and "Charlie and the Chocolate Factory" (Warner).
Videodrone talks with "Jackie Brown" stars Pam Grier and Robert Forster here.
Peruse all the new Blu-rays here
For Coming Attractions and more reviews, visit Videodrone, MSN's DVD, Blu-ray and home viewing column.