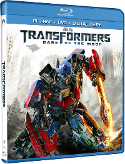 New Releases:
"Transformers: Dark of the Moon" (Paramount), Michael Bay's third rock 'em sock 'em giant robot spectacular, was shot and designed for 3D, which forced the director to slow his chaotic editing down and create a coherent action canvas. While the DVD and Blu-ray are standard format, they too benefit from the restraint: you can actually see the transformations unfold and the action play out. It's just the story that makes no sense. But then again, it's a movie about giant alien robots who go to war in the city of Chicago and destroy half the city along the way, so who needs a story? Note that this is a Friday, September 30 release and features no supplements. Expect a special edition and a Blu-ray 3D version by the holidays. Videodrone's review is here.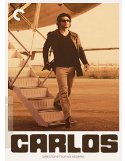 "Carlos" (Criterion), Olivier Assayass' epic account of the life and myth of real-life terrorist Carlos the Jackal, is a mesmerizing portrait of committed activist who transforms himself into a media-hungry rock star of an international terrorist. It is packed with incident and detail and moves at a remarkable for its entire five-and-a-half-plus​​ hour running time. Videodrone's review is here.

Also new this week: the thriller "The Ledge" (IFC) with Charlie Hunnam, Liv Tyler and Patrick Wilson, the Hong Kong gangster flick "The Stool Pigeon" (Well Go USA) with Nicholas Tse and "Viva Riva!" (Music Box), an award-winning, adrenaline-charged African crime thriller set in Kinsasha, Congo, among a generous collection of foreign language films this week.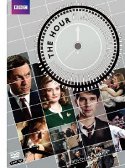 Browse the complete New Release Rack here
TV on DVD:
"The Hour" (BBC), a BBC mini-series set in the fifties, is an odd but intriguing hybrid of journalism drama and Cold War conspiracy thriller, all set in the crucible of a fresh, adventurous TV news hour that pushes against the suffocating government restrictions on reporting. Though the soap opera diversions tend to distract, it builds to a dynamic climax that creates high tension out of low-key defiance. Ben Whishaw, Romola Garai and Dominic West star. Videodrone's review is here.
"Queer as Folk (Original U.K. Series): The Complete Collection" (Acorn) presents the entire run of the groundbreaking British series created by Russell T. Davies. Set in the gay culture of Manchester, it also launched the careers of Aidan Gillen ("Game of Thrones") and Charlie Hunnam ("Sons of Anarchy"). Of course, being British, "Complete" means that it's a mere six episodes.
"How to Make It in America: The Complete First Season" (HBO) is the half-hour HBO comic-drama and "Call Me Fitz: The Complete First Season" (eOne) is a black comedy starring Jason Priestly, originally made for Canadian cable.
Plus the continuing shows keep rolling out. On the comedy side, we have "How I Met Your Mother: The Complete Season Six" (Fox), "The Middle: The Complete Second Season" (Warner) and HBO's "Hung: The Complete Second Season" (HBO), while on the drama side the entire "CSI" franchise rolls out: "CSI: Crime Scene Investigation – The Eleventh Season" (Paramount), which is final season for Laurence Fishburne, "CSI: Miami – The Ninth Season" (Paramount) and "CSI: New York – The Seventh Season" (Paramount).
Flip through the TV on DVD Channel Guide here


Cool, Classic and Cult:
"Treasures 5: The West, 1898-1938" (Image) is the kind of labor of love that makes my job so much fun. This collection of features, shorts, documentaries, newsreels, travelogues and fragments from the silent and early sound era is more about preservation and education than simple entertainment, but it is entertaining as well as revealing. It's a record of the American West as it was transforming from frontier to modern world, as viewed through fictional representations and documentary recordings. The richness of offerings and the span of formats presents a visual record that makes the case for film preservation better than any lecture. All this and Clara Bow, flirting her way through the Yukon.
"The Phantom Carriage" (Criterion) is considered one of the masterpieces of the early twenties and the greatest film of Sweden's silent era, and for good reason. It's a gorgeous film with understated performances, haunting imagery and a human drama as compelling as any modern masterpiece. Criterion presents its long-awaited home video debut in a superb edition on DVD and Blu-ray.
"To Be Twenty" (RaroVideo) is a sexploitation youth drama rarity from gangster movie specialist Fernando di Leo and "The Cloud-Capped Star" (Facets) is Indian film master Ritwik Ghatak's 1960 family melodrama set in Calcutta.
Also new: "Herschell Gordon Lewis: The Godfather of Gore" (Image) from fellow cult horror director Frank Henenlotter and "Ma & Pa Kettle Complete Comedy Collection" (Universal).
All of the Cool, Classic and Cult here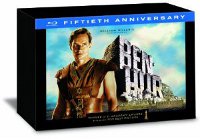 Blu-ray Debuts:
"Ben-Hur: 50th Anniversary Ultimate Collector's Edition" (Warner) is the latest Oscar-winning epic to the Blu-ray treatment in a newly-remastered HD edition. Yes, it is a big, lumbering epic that can barely support its own weight, but then it has the square shoulder of the even squarer Charlton Heston to hold it up, and the new edition features a new documentary on Heston as well as documentaries on the film and a DVD edition of the original silent version of the film from 1925. Videodrone's review is here.
"Footloose" (Paramount) gets its HD debut as the remake is set to hit theaters and Videodrone has an exclusive clip. Kino continues rolling out Keaton on Blu-ray with "Buster Keaton: Go West / Battling Butler" (Kino), reviewed on Videodrone here.
Guillermo Del Toro reworks his American film debut with "Mimic: The Director's Cut" (Lionsgate) and "The Blood Trilogy" (Image) features the Blu-ray debut of three grindhouse gore classics from Herschel Gordon Lewis.
Peruse all the new Blu-rays here
For Coming Attractions and more reviews, visit Videodrone, MSN's DVD, Blu-ray and home viewing column.